If we zoom out to look at the Market Vectors Daily Gold Miner ETF (NYSEARCA:GDX) on a six-day time frame, we get a good view of the near-to-medium term.
We see from the chart below that the wedge pattern is being tested and is holding thus far.
It is important to note that as the GDX has moved higher over the past several weeks, the range has narrowed (in the past two weeks) and the volume has declined.
Note that there are still three more trading days to go before the current price-bar is complete.
As of this post, the energy behind the move (using volume as a proxy) looks like it is evaporating.
(click to enlarge)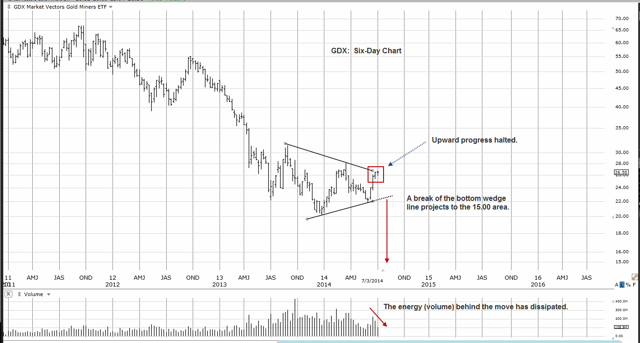 Click to enlarge
Chart by TeleChart
If this wedge holds and the GDX declines into the pattern to test and break the lower channel line, we then have a measured move target in the 15.00 area.
Disclosure: The author has no positions in any stocks mentioned, and no plans to initiate any positions within the next 72 hours.