We are in a market of extremes. Extreme lows (like March 2009) and extreme highs such as now.
Over the thirty or so years that I have been researching and studying markets, I have seen many momentum divergences in RSI, or Stochastics, or MACD.
Sometimes, I would see a double divergence (two successive lower peaks in an indicator). Maybe one time, I saw a triple divergence though I can not remember the time or the place of the event.
After three decades, I have never seen a quadruple divergence in any momentum indicator. Maybe they are common and I missed it somehow. Probably not.
As we look at the weekly chart of the Russell 2000 Small Cap index that is represented by the iShares Russell 2000 ETF (NYSEARCA:IWM), we see a quadruple divergence in RSI:
(click to enlarge)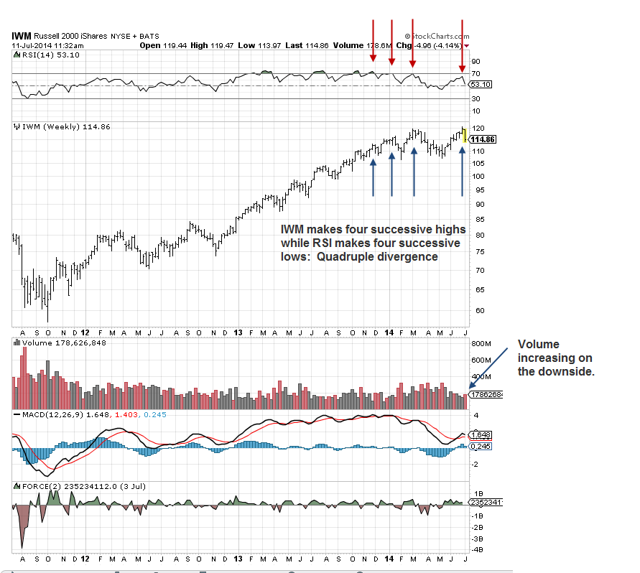 Click to enlarge
Chart by StockCharts
If the termination of the upward move is so extreme that it creates a quadruple divergence, would it not stand to reason that the downward leg (when it happens) will be no less extreme.
At the same time, there must be recognition that anything can happen in the markets. The IWM could rebound (although not likely).
Our current stop location for the position in the Direxion Russell 2000 Bear 3X ETF (NYSEARCA:TZA) is this week's low at 13.56.
Disclosure: The author is long TZA.