It is not very often that I use Elliott Wave analysis for any particular market situation.
The reason is that unless the market under study is at an emotional extreme, the "wave" labels are difficult to discern.
Price pattern and volume analysis (Livermore, Wyckoff) provide better results from my perspective.
However, for the case of the iShares Russell 2000 ETF (NYSEARCA:IWM), we may have a market at a psychological extreme and thus Elliott may be of use.
Taking a look at the hourly chart of the IWM below, the waves are labeled: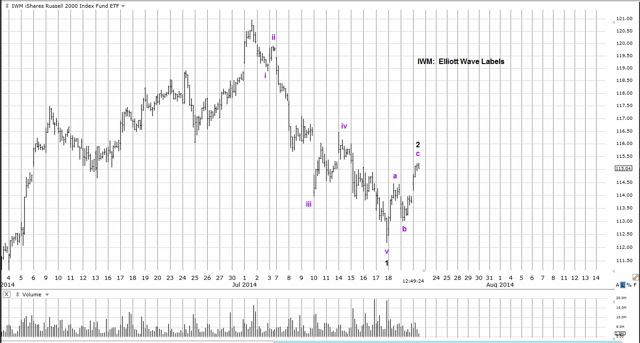 Chart by TeleChart
If this labeling is correct (which is one of the problems with this type of analysis), then we have just completed a counter-trend move.
This move is labeled "a-b-c" on the chart and has a Number 2 above the "c" wave.
The reason that all of this is important, is that these labels support the original premise that we have seen a major top and that the IWM will continue to much lower levels.
Wave 3, may have started during today's session. If so, the typical projection for Wave 3, is either 1.318 or 1.5 of Wave 1. That puts the IWM down at the 104.00 area (or lower) before the Wave 3 is complete.
As a result of this analysis, additional purchases of the Direxion Russell 2000 Bearish 3X ETF (NYSEARCA:TZA) were made during this session.
It remains to be seen if the "wave" labels are correct.
An exit of the entire position may be executed if the next sessions push above today's IWM high of: 115.25.
Disclosure: The author is long TZA.
Additional disclosure: For illustration only. Not investment advice.