Here is a video link that describes in brief, the real forces behind price movement.
The video is a little raw but that is ok. I tend to be wary of slick presentations. However, the message is clear.
www.youtube.com/watch?v=0I6lqIBJ2JM
Just as a clarification, the "technical analysis" referenced is that seen with moving averages, MACD, oscillators and so on. It is not the analysis that is being conducted by analyzing price-bar and volume (which analyzes the forces behind the market).
Analyzing price-bar and volume on a day-to-day basis (and using multiple time-frames) is similar to the chess game referenced in the video.
The thought process with chess as well as the markets should be: "If my opponent moves this way (or that), then what is my next (and subsequent) move going to be?".
Notice that there are no indicators involved with that thought process. There is also no fundamental analysis either.........
Getting back to the iShares Russell 2000 ETF (NYSEARCA:IWM), we can see that it might be about to get ugly (for the bulls).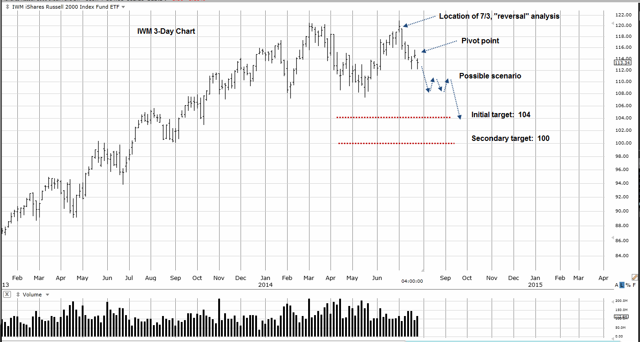 Chart by TeleChart
If the "pivot point" begins to erode, it may be an excellent indication that the current down-trend has reversed.
Disclosure: The author is long TZA.
Additional disclosure: Illustration only. Not investment advice.