It took about two hours of morning action for the iShares Russell 2000 ETF (NYSEARCA:IWM) to complete what looks to be a test of the 112.25 resistance area identified previously.
This action may have been short term bulls playing a (very low-probability) bounce or it could have been short-covering or a combination of both.
Either way, it is now back to our regularly scheduled programming with the potential resumption of the move lower.
Looking at the daily chart of the IWM below, we see the potential for a new channel.........now descending more aggressively than what has been in place the past three weeks.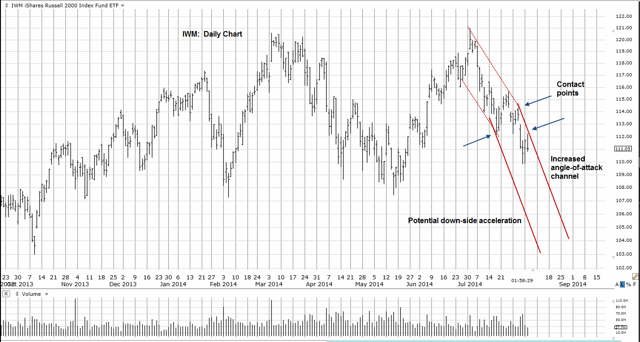 Chart by TeleChart
We have to rely on subsequent price-action hits to determine if this channel is in-effect.
Down-side P&F targets for the IWM have been posted at this link.
If you have not yet requested a LinkedIn connection, there is still time and I welcome you aboard in advance. The response thus far has been excellent.
Disclosure: The author is long TZA.
Additional disclosure: Illustration only. Not investment advice.