The past several days have shown how difficult it is to call a continuation reversal in the middle of a trend (and why it is important to enter early).
It looks at this point, that the iShares Russell 2000 ETF (NYSEARCA:IWM) has completed its counter-trend move and is about to continue its next leg lower.
If the IWM continues to adhere to an Elliott Wave structure, it is during this move (Wave iii of Wave 3) that will get the attention of the general public and the media.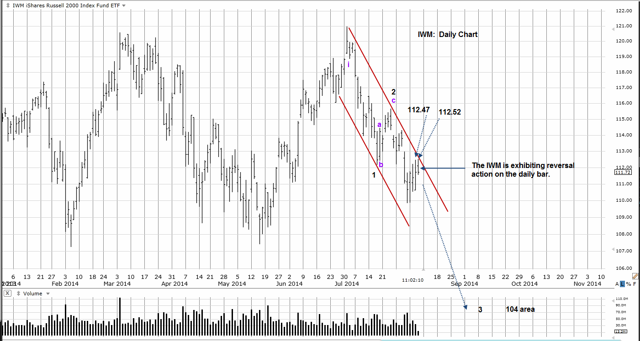 Chart by TeleChart
This area of the move is what is termed the "Prechter Point", where there is a recognition and admission that the overall trend has changed.
Of course, this recognition happens well after the fact.
If we go back to the July 3rd analysis, we see just how ephemeral it really is during a reversal. It seems to be an area that stands still in time.
Richard D. Wyckoff refers to this exact phenomenon in his book titled: "Studies in Tape Reading".
Disclosure: The author is long TZA.
Additional disclosure: Illustration only. Not investment advice.