Seven Arts (SAPX) is an independent motion picture production company engaged in developing, financing, producing and licensing theatrical motion pictures for exhibition in domestic, including DVD, home video, pay-per-view, and free television. The shares have a maximum of 52-weeks located in $5.75 and a minimum of 52-weeks in $0.06.
The company yesterday announced the results for the fiscal second quarter of 2012 by providing a loss of $ (1,095,995 ) o $ (0.07 ) per share compared with a net profit of $569.711 o $0.32 per share in the year-ago second quarter. Also provides information on the program of debt relief and have reduced film and production loans by $5 million to under $6 million and reduced our other liabilities by $2 million to under $7.5 million from the amounts at last year end.
In the following table you can see the latest conversions in shares carried out.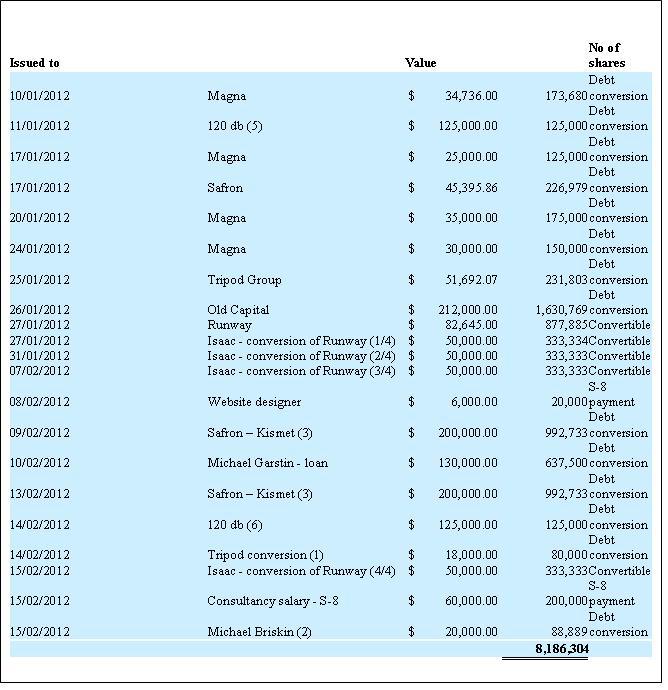 Total shares outstanding as of February 15, 2012 was 30,886,342.
The Seven Arts presents a cash flow $32.979 for the second quarter.
The Company also announces its plans for addressing the NASDAQ bid price compliance requirement. Seven Arts can achieve compliance by demonstrating a closing bid price for its common shares of at least $1.00 per share for a minimum of ten consecutive business days by March 20, 2012. The press release stated that the date for achieving the $1 per share closing bid price was March 1, 2012, but in fact the applicable date is March 20, 2012.
Conclusion
The company has just issued press releases for future projects, which have not been performed yet. His productions are just ideas, recently reported the photographic production of "Schism".
In my opinion the company is using the shareholders to pay all current expenditures of the company through conversions in common shares. This conversions in the long term can turn a "spiral of death". My impression about your business, ways of acting, and the situation of the media sector, makes me feel pessimistic about an uncertain future within the market of series B films.
Competition in the sector has years of experience and companies such as Lions Gate Entertainment Corp. (LGF), DreamWorks Animation SKG Inc. (NASDAQ:DWA), The Walt Disney Company (NYSE:DIS) and Time Warner Inc. (NYSE:TWX) are best placed to withstand the years of stagnation in the sector.
Disclosure: I have no positions in any stocks mentioned, and no plans to initiate any positions within the next 72 hours.