The longstanding and consistent Disney stock is preparing for major profit turns from its soon debuting Shanghai Disney. Set to open in December 2015, Shanghai Disney is the latest endeavor for the company, creating optimistic anticipation from investors and consumers alike.
The 1,730-acre park that has drawn in over four billion dollar in investments has created high expectations that rely on unpredictable situations in China. The travesty of Hong Kong Disney leaves many cautious of the potential failure in Shanghai. Hong Kong Disneyland turned a profit for the first time last year, after its opening in 2005, and has thus far not been a successful park. In addition, Disney is relying on the growing middle class in China and the implementation of a $611million Shanghai Disney subway line that would make the park more accessible to those in the nearby area.
Despite this, there is still a huge market in China that has been left untouched by Hong Kong Disney, creating an opportunity for Shanghai Disney to shine. Unlike the small and simple Hong Kong Disney, Shanghai intends to build a huge park with completely new and specialized attractions. The biggest Disney castle in the world will be at Shanghai Disney, as well as a unique 11-acre floral area. To grow the popularity and image of Disney in China, the company is looking to increase their current television programming hours of Disney Chanel and boost retail sales. This, combined with future ad campaigns and promotion of Shanghai Disney, could present an opportunity for Disney to successfully reach the 330million Chinese within the area.
(click to enlarge)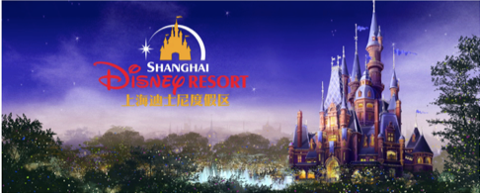 Click to enlarge
The success, or failure, of the future park will have major effects on the company. Shanghai will be the 6th Disney worldwide, and could harbor the reality of overexpansion, or a need for more Disney across the globe. DIS stock is said to be slightly over valued, but many believe the extra dime will pay off in the long run. With their stock falling slightly in the past week, this could be an opportunity to invest. A constant turn of profits at Shanghai Disney may bring a surge in value, but the downfall of the park would represent a turning point for the company. The new Shanghai Disney is a risky investment, and will change the tides of the company for better or worse.
Disney has been a persistently growing company, but a misadventure at Shanghai Disney could represent that they have reached their limit. The time for investors to decide comes soon, as Disney extend its reach further into China, a market that may or may not be ripe for the happiest place on earth.