Carlos Guillen
After the very disappointing trading session this past Friday, when the Dow fell 205 points or 1.52%, today's market drop is a lot less severe but nonetheless concerning. While Caterpillar (NYSE:CAT) had strong earnings during the third quarter (missed on the top line), its outlook continues to reverberate in the minds of investors as the session continues, putting some pressure on markets at the moment. FedEx (NYSE:FDX) also came out and gave some guidance in terms of its shipments outlook, which was strong but more or less as expected.
As it is clear by now, Caterpillar delivered excellent financial results for the September quarter, with revenue growing by 4.6% and earnings leaping by 48.5%, both on a year over year basis. However, as it has been the case with many companies this earnings season, despite having better than expected earnings per share, revenue came in shy of the Street estimates, landing at $16.45 billion, compared with the consensus estimate of $16.77 billion. But more discouraging was the revenue outlook for the rest of the year, which is now expected to be approximately $66 billion, down from the prior guidance of $68 billion to $70 billion. From the company's perspective, the decline in revenues outlook reflects global economic conditions that are weaker than previously expected. It is apparent that while the Company has been able to sustain record levels of revenues, the debt situation in Europe, the slowing growth in China, and the anemic growth here at home are coming together to affect demand from around the world slowly but surely.
Perhaps a bit encouraging today was that FedEx is projecting 19 million shipments on the Company's busiest day this year, which is projected to occur on December 10. However, this was already expected and built into the earnings guidance of fiscal 2013. FedEx also expects to make 280 million shipments between Thanksgiving and Christmas, representing an increase of 13% from the same period a year ago. While this reiteration is good, we should note that FedEx has warned that the economy is stalling and that it expects conditions to get worse next year. So while the conditions are not expected to be worse than prior expectations, they are still not looking good.
At the moment, stocks are continuing to slowly sink lower, and with the lack of economic data today and tomorrow, we have little hope of a strong bounce. The Dow is currently trading lower over 60 points of 0.5%, not as bad as Friday's drop, but it is accelerating. Only five of the 30 Dow stocks are in the green. Investors need to see more solid data pointing to stronger economic drivers to get us out of this downturn, and this seems unlikely at the moment.
Coal Crippled, but Still Smoldering
David Urani
It hasn't been an easy couple of years for coal, and you can't blame them for being a depressed sector these days. It doesn't help much when the EPA makes you public enemy #1. Because of new regulations, as much as 12% of the nation's coal plants may have to be closed because of pollution restrictions. Not only that, but any newly built power plants are restricted at 1,000 lbs of carbon dioxide per megawatt hour; the average coal plant gives off 1,768 lbs which effectively means traditional coal plants are a thing of the past.
But check out the heat from Peabody Energy (BTU) which is seeing a strong bid after earnings.

They mentioned the big obvious points that led to the decline in EPS year over year, including lower than expected global GDP pressuring prices, along with a slowing China. And of course, there's been the natural gas boom here in America that's effectively made gas the cheaper option for power generation.
But there were some positives to be had in the quarter. Revenue was actually higher than last year, as coal generation is up 14% in Europe, despite the deep recession there, and in total coal imports worldwide hit a record.
And with respect to natural gas as a competitor to coal, prices bottomed out in April and have been on the rise. Below $3.00 it was clearly the cheaper option for power generators, but once it started creeping back towards $3.50 it was no longer attractive to switch coal plants for natural gas, and above $4.00 it should really be challenged. That being said, natural gas is likely to hit somewhat of a ceiling at that point as drilling would be expected to increase. Of course, both nat gas and coal are benefiting from increased skepticism over nuclear power.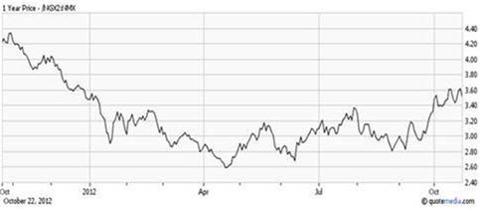 Peabody management notes that they think coal demand has bottomed, and that it's set for a US rebound in 2013. Their EPS guidance for this year was issued at $1.88 to $2.08 versus the $1.88 consensus estimate.
Grand Bargain Not Dead After All
David Silver
It is time to get the confetti and balloons out. We are not setting up for an early New Year's party (or even a Halloween party), but instead, we are celebrating that members of Congress are actually making progress in anything. I know I will probably receive a few emails giving me examples of what Congress has done, but c'mon, the Senate has been in session six days in the month of October. SIX!!!! That is after being in session 13 days over the past two months. So since August 1, our elected officials have actually had to go to work 19 days; all this with a "fiscal cliff" on the horizon. However, me complaining about how little our elected officials actually work is not the point of this article.
Last August, the House and Senate passed a bill that allowed for the debt ceiling increase needed to keep the federal government running. As part of the agreement, a "fiscal cliff" was installed that would automatically cut $109 billion of spending on January 2, 2013. Economists say that approximately $600 billion could come out of the economy if the fiscal cliff is breached. The deal set up a "Super Committee" that would negotiate what spending was cut. In a surprise to everyone involved, the committee failed, and it seems there really hasn't been much progress made since that time. One of the best ideas I heard was the "Grand Bargain" that would have allowed both sides of the aisle to save face and actually accomplish something... that failed too. However, the talk now is that portions of the Grand Bargain are being revolved (and when the Senate isn't even in session, OMG!). The deal would be a targeted $55 billion spending cut that would be much more specific than the $109 billion machete that would be used in the cliff scenario. The $109 billion spending cut would be split between military and non-military spending, but the Bush tax cuts from 2001 and 2003 would be reversed. The plans for the $55 billion plan are still a closely guarded secret. I keep saying that the hopes are for this, but honestly, I am not holding my breath. This is going to be a last minute compromise that won't really fix the problem. There are talks that now the tax code is in the works too. Change a few tax loopholes, cut spending and voila, we are out of this mess.
I truly hope that these people we send to Washington to represent us realize that they would fail miserably if the country is forced over this cliff. If that happens, I propose every single person in Congress is fired, or at least they take a $1 salary until the problem is fixed. No free travel vouchers, no per diem for spending money, etc. If you want to travel back and forth for a rally, you pay for it. There is about as much chance of that as me winning the Presidency race, so again, I am not holding my breath.