Carlos Guillen
As earnings season unfolds, equity investors continue to see that stimulus efforts from around the world have not been doing enough to spur demand, and as a result, revenues from many large industry players have been coming in lighter than the Street's expectations.
The fact is that approximately 62% of companies in the S&P 500 have reported revenues below analysts' estimates, and now beating on earnings is just not enough to compel investor as they are becoming concerned that the global slowdown may linger much longer than many believe. The euphoria that had lifted markets higher is now well in the past, that is stimulus efforts have not quite worked. Companies have been able to sustain earnings through cost cutting efforts but this is just about to run its course. The bottom line is that revenues need to improve, and that means demand needs to be spurred.
Over in China, there continues to be signs of further slowdown as factories are losing pricing power in the worst wholesale-cost deflation since 2009, signaling corporate earnings may deteriorate further and increasing the probability of further price declines (it's a vicious cycle). While this gives Chinese officials more room for further stimulus, investors simply do not seen convinced that more liquidity will help.
Over in Europe, resolution to the debt crisis continues to drag along, and credit agencies see increasing risks. As such, Moody's Investors Service, a week after deciding against cutting Spain's credit-rating to below investment grade, lowered Catalonia and four other Spanish regions.
At the moment, stocks are continuing to trade deep the red, and with very little in terms of economic data, markets will likely continue to remain under pressure. The Dow Jones Industrial Average is currently trading down over 220 points or 1.65%, worse than the drop posted on Friday when the Dow lost 205 of 1.5%. Support has been severed and this can be a signal of further drops.
Stocks Knock Barack?/Market Lifting Mitt?
David Urani
An interesting thing happened today in the markets, and not just in the stock market. Intrade, the leading prediction market and a popular barometer for the presidential election made a surprisingly similar move to stocks this morning. You could call it a coincidence, and it wasn't an exact science but for me the correlation was too coincidental to be nothing. It wasn't just that the President's odds for reelection (above) tracked lower at the same time as the Dow (below), particularly just a few minutes after 10:00, but Intrade saw a big unusual influx of trading volume as well. At the low point this morning, the President's odds were 56.5% which was the lowest since early last month.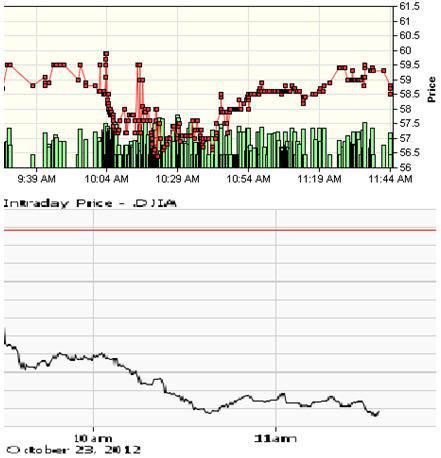 If this was more than a coincidence, the question is which was driving which? Considering there didn't seem to be any poll results during that time, and the Intrade volume increase during the market drop, it looks as if people are putting their bets on Obama's fate as it relates to the market (a.k.a. the economy).
Romney did lose the debate last night; that seems to be the consensus. However, he also was widely said to have lost the last debate as well but his polling numbers, particularly in swing states like Ohio, continued to improve. He seemed to set in motion a big swing of momentum after his exceptional first debate, and his losses in subsequent debates may have only slowed that momentum but not reversed it.
Perhaps last night's performance by the challenger is being seen as just good enough to stay in the race, and bettors are thinking voters' immediate feelings about the economy (i.e. the market) will be the difference. I'm skeptical myself but when Intrade moves like this people take notice.
Glass Jaw Market
David Silver
Markets are in free fall mode, and there really isn't that one piece of information that triggered the sell-off. Sure, Spain continues to be a worry, but it has been for months now. Earnings seasons has been disappointing, but no report this morning really should have released this tidal wave of selling. Some are blaming it on DuPont 's (NYSE:DD) earnings where the Company missed expectations, slashed forecasts, and indicated it was going to eliminate 1,500 jobs.

If the stock were to close at this level, it would mark DuPont's biggest dollar loss since Sept. 7, 2000, according to WSJ Market Data Group. The percentage decline would be DuPont's biggest since Dec. 1, 2008. Today's stock drop has also wiped away all of DuPont's 2012 gains. The company slashed its full-year adjusted earnings to between $3.25 and $3.30 a share from its July view that earnings would be toward the lower end of its previously given range of $4.20 to $4.40 a share.
Estimates were on the decline into earnings season with the S&P earnings expected to decline approximately 1.7% (I have read that some expect total earnings to decline more than 3.0%), while revenue is only expected to decline 0.6%. More than 60% of the companies that have reported earnings this season have missed estimates. That is a staggering number. Is it that analysts expected the economy to be better (maybe a little rose colored glasses) or is the economy taking another leg lower? I am leaning more towards to former. Europe continues to be in shambles, China is slowing, and 1.3% growth is not enough to sustain the hockey stick type of growth that many analysts were expecting.