Carlos Guillen
Equity markets got off to an alleviating start this morning, and despite some oscillations, stocks overall are trading up. While housing data posted this morning continues to support a recuperating housing sector, the main driver today is manufacturing data from China, which is indicating an inflection point on the gross domestic product trend.
As mentioned earlier, data out of China was encouraging as the "flash" version of HSBC's China manufacturing Purchasing Managers' Index rose to 49.1 in October from 47.9 in September. This level represents a three-month high, and at the moment is helping to ease worries that the nation's GDP growth would come crashing down. PMI data for the U.S. also ticked a bit higher to 51.3 from 51.1, still landing in what is considered expansion territory. The combination of these two results is serving to give investors some confidence that world economic growth may begging to edge higher.
At the moment investors are looking to the Federal Open Market Committee's comments at 2:15 PM, which we believe will not be much of a game changer, as we expect rates to remain the unchanged. The rest of this week promises to be eventful as GDP estimates, Michigan sentiment, and initial claims data will give more indications of where the economy is headed.
Home Sales Hold Up
By David Urani
New home sales for September came in at 389k, up 5.7% month to month annually adjusted and up 27% year over year to the highest level since April 2010. It was slightly above the 384k consensus estimate. The Northeast, South, and West were each up, while the Midwest was down. In the meantime, the median sales price dropped slightly to $242,400.
We're actually at a point during the year when sales start to decelerate, and versus last month, non-adjusted sales were flat, and would equal the lowest point since February. Not to knock that as a bad result, but a glance at the headline number would suggest sales are surging when in fact, they are simply holding up a little better for this time of year. Consequentially, I think that's why you're not seeing housing stocks react much to the result.
In fact, if anything homebuilders may have trailed off a bit following the release. As I've noted before the housing rally has been in place for a year now and these stocks trade with a lot of expectation built in. In reality, we may have needed to see a result above 400k to get the stocks to go higher. But for now we can say home sales continue to hold strongly.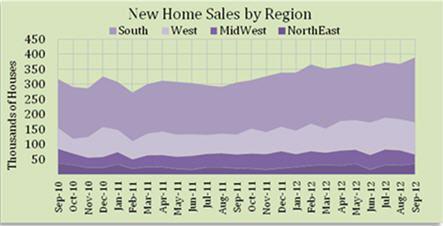 BAC Is The FHA's Punching Bag
David Silver
This afternoon, the federal government filed a civil lawsuit against Bank of America Corp. (NYSE:BAC) alleging the second-biggest U.S. bank by assets saddled taxpayers with losses by misrepresenting the quality of home loans it sold to mortgage-finance firms Fannie Mae and Freddie Mac. This is the latest in a flurry of fraud cases the government has filed against the nation's banks. Wells Fargo (NYSE:WFC) was hit with a similar lawsuit at the beginning of October. While earlier this year, Deutsche Bank (NYSE:DB) and Citigroup (NYSE:C) settled cases with the federal government for $202 million and $158 million respectively. BAC actually settled a $1 billion False Claims Act fraud case for $490 million in February. The second $1 billion lawsuit against a company in one year, ouch.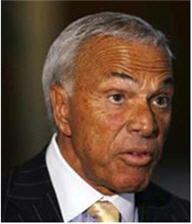 The government alleges Countrywide Financial Corp., the mortgage company Bank of America acquired in 2008, dismembered quality control and checks on loan quality in 2007 through 2009, in a process called "the Hustle" that aimed to boost the speed at which it originated and sold loans to the companies. The mortgage unit falsely continued to claim the loans qualified for insurance from Fannie Mae and Freddie Mac, the complaint alleges. Is anyone surprised that the problem with Countrywide continues to affect Bank of America? I mean this was the guy that built Countrywide into what it was. I will say, as his time in the hot seat continued, Angelo Mozilo's spray tan seemed to fade, and his bright white hair got a little more pepper in it. One would think that the salt would take over even more with all the stress the government was putting on him.
Banks continue to be on the hot seat though, and it only will continue to worsen as the Dodd-Frank and Basel III solidify. Companies really don't know what is going to be included in these statutes. They are working on a framework; however, more than two years later, Dodd-Frank is still being ironed out.