Carlos Guillen
Equity markets are continuing to slide during today's trading session as investors continue to digest Friday's jobs data and as ISM services data from here at home landed below expectations.
ISM services data was somewhat disappointing today, as the result indicated the service industries in the U.S. expanded in October at a slower pace than forecasted. The ISM services index declined to 54.2 from the 55.1 reached in the prior month, landing below the Street's consensus estimate of 55.0, but still indicating continuing expansion. This result comes after last Thursday PMI results showed that manufacturing expanded in October for the second month in a row at a slightly faster pace than projected as orders and production picked up, showing the industry is stabilizing.
Perhaps, despite the fact that the ISM services number came in below expectations, the general indications are that the economic backdrop is making modest improvements. Same-store sales from a number of industry leaders were strong in October, as we saw last week the 17 retailers tracked by Thomson Reuters reported 4.7% growth in same-store sales, or sales at stores open more than a year. This compares with an increase of 4.1% a year ago. We should note that the retailers ended their fiscal October on Saturday, before Sandy reached the Northeast. Some notable gainers in the retail space were Nordstrom, Costco Wholesale, and Macy's, which posted same-store sales of 9.8, 5, and 4.1 percent, respectively. We should also note that the housing sector has been recovering at a healthy pace, and in September Americans bought new homes at the fastest pace in two years.
Over in China, the services industries showed a rebound from the slowest expansion in at least 19 months. According to the National Bureau of Statistics and China Federation of Logistics and Purchasing, the purchasing managers' index rose to 55.5 in October from 53.7 the previous month. On the other hand, a different services index released today by HSBC Holdings Plc and Markit Economics in Beijing showed a drop to 53.5 in October from the 54.3 posted in September. Although the services data was conflicting in terms of its direction, it still demonstrated overall expansion in the world's second largest economy.
At the moment equity markets are continuing to trade in losing territory, but not by that much as reflected by the Dow Jones Industrial Average, which is in the red by 25 points and looks to be bouncing off support. The rest of the week promises to be eventful with economic data points from consumer credit, trade balance, and Michigan Sentiment. Moreover, Greece will be on investors' radar again as the Greek parliament will hold a key vote on structural reforms this Wednesday, which will in part determine if the nation gets further assistance from the European Union.
ISM Services
David Urani
The ISM services index interestingly never holds as much weight with the market as their manufacturing index, but nevertheless it may shed some light on the situation. The headline reading for October came in at 54.2, below the 54.9 consensus estimate and down from 55.1 in September. This was the first decline since June. Activity was the lowest since April, while exports were the lowest since August 2010. On the positive side though, employment was the highest since February at 54.9, up from 51.1.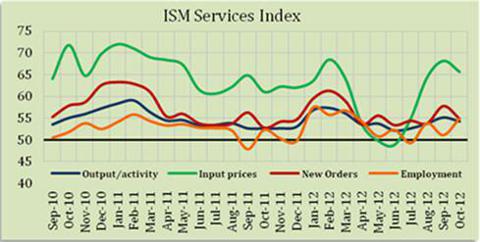 Spain Sinks
Spain is taking quite a hit today, with the IBEX 35 index down almost 2%. That in turn is also adding to drama in other European markets like Italy and France, whose respective markets are each down more than 1%. The main problem at hand seems to be speculation that the ECB may be reconsidering their stance on Spanish debt. Specifically, they may be second guessing how loose their requirements are on collateral that they can accept.
Automakers Keep It in Drive
David Silver
This morning, three automakers are in the news with General Motors (NYSE:GM) getting another revolving credit facility, Toyota (NYSE:TM) announced earnings and increased its guidance for the rest of the year, and Tesla (NASDAQ:TSLA) released its results for the past three months. First GM; the automaker announced it secured an $11 billion revolving credit facility, replacing the existing $5 billion line the Company secured more than two years ago in the run-up to its initial public offering in November 2010. Thirty-five banks from 14 countries, led by JPMorgan Chase & Co (NYSE:JPM) and Citigroup (NYSE:C), participated in the deal. GM's new credit line consists of a $5.5 billion three-year facility and another $5.5 billion that matures in November 2017. Its earlier $5 billion facility would have matured in 2015. GM has little debt and held about $31.6 billion in cash and securities on Sept. 30 as part of $37.5 billion in total liquidity. Analysts have said GM needs roughly $20 billion to operate comfortably. The move is likely the precursor to a big announcement surrounding purchasing the European and Latin American assets of Ally Financial (which was formerly GMAC).
Toyota announced third quarter earnings that tripled on a weaker yen as strong U.S. sales offset a weaker China. The tiff between Japan and China continues over small islands in the East China Sea, and as a result, sales of Japanese vehicles in China has slumped dramatically (China called for a boycott of the products), falling 44% during October year over year following a 49% drop in September. However, Toyota's management increased its profitability forecasts for the year by 2.6% to ¥780 billion ($9.7 billion) from ¥760 billion for the fiscal year ending March 31. The brighter view reflects Toyota's greater resilience in China, a weaker yen, and reduced incentives and production costs.
Tesla reported a larger quarterly loss, but the stock is still trading higher. The biggest news is that management indicated the niche electric vehicle niche manufacturer is on target to reach an annual production rate of 20,000 Model S Sedans during December. Back in July, when production for the Model S began, Tesla was producing 25 Model S's per week, it is currently up to 200 per week, and expects to be up to 400 per week by the end of December. TSLA worked through a tough period during the third quarter as a good deal of investment was required to mass produce a vehicle for the first time. The more expensive Roadster is produced for a specific customer. The company ended the third quarter with $109 million in cash. After the quarter ended, it raised $222 million, bringing its total available cash to $330 million. Management also indicated it expects to quickly reach its 25% gross margin once production for the Model S is fully up and running. Revenue came to $50 million, up 16 percent from a year earlier and up 88 percent from the previous quarter. Analysts had expected $48.3 million. Excluding special items, mainly stock-based compensation expenses, TSLA reported a loss of $0.92 per share. On that basis, analysts' average forecast was a loss of $0.90 per share.