After a rather rough start to today's trading session, equity markets appeared to be returning to where they left off yesterday, partly as a result of better than expected housing data, and partly as news that Hamas and Israel are approaching a ceasefire.
Perhaps giving some solace to investors today was that housing data came in fairly strong. Housing starts climbed 3.6% in October to the highest level in four years. These results are serving to give some confidence that the housing sector, which was at the center of the recession, is heading in the right direction. While building permits declined 2.7% month-to-month, it landed in line with the Street's estimate. Given that building permits are a proxy for future construction and a leading economic indicator, its overall momentum is clearly indicating that the housing industry is improving in the near term. These results may have given equities some support, but probably not that much.
Free Report
This is a stock that environmentalists hate but even the lawless EPA can't stop. Immune to the kind of ups and downs and recent pressure that has been seen in fertilizer plays, this producer of inorganic fertilizer is benefiting big time from the natural gas boom and demand for corn.
Over in the Middle East, there are rumors that militants from the Gaza Strip and Israel agreed to a ceasefire (or are at least getting close to one). Although this situation still remains shaky, at least the signs are that these tensions may have peaked. As a result, the price of crude has backed off a bit after climbing as tensions increased.
On a negative note, yesterday Moody's lowered France's AAA rating to Aa1 while maintaining a negative outlook. This news serves to add to the belief that most of the euro zone is falling behind and becoming less competitive than Germany. The downgrade of Europe's second-biggest economy is a clear negative for everyone as we are all dependent on a euro zone economic comeback for our own growth. Moody's move echoes S&P's downgrade from back in January.
So while the housing sector is slowly getting better, it is still nothing to feel invigorated about, as the still tough jobs situation is going nowhere and the manufacturing sector is providing indications of slowing economic growth here at home. At the moment, the Dow has retreated once again after Ben Bernanke spooked investors by saying that it did not have the tools it needed to offset the consequence of a realization of the fiscal cliff.
Uncertainty Is the Name Of The Game
David Silver
This afternoon, Fed Chairman Ben Bernanke gave a speech and answered questions at the Economic Club in New York City. Mr. Bernanke essentially laid down a gauntlet, saying that Congress and the President need to get their act together and pass something to avoid the fiscal cliff. Bernanke also said Congress must raise the federal debt limit to prevent the government from defaulting on the Treasury's debt. He said a failure to do so would impose heavy costs on the economy. He said Congress also needs to reduce the federal debt over the long run to ensure economic growth and stability. Uncertainty about all these issues is likely holding back spending and investment and troubling investors, the Fed chairman said in a speech to the Economic Club of New York. On top of all these things, Mr. Bernanke indicated that the jobs situation remains far from healthy, which means that bond purchases will remain high, in an effort to get long-term interest rates lower. Then again, all these actions haven't helped to get it lower in the past... Another key point that Mr. Bernanke made in an attempt to stress the dire situation the country would be in if the President and Congress did nothing; he said that the Fed doesn't have the tools to help the economy if it were to fall off the Fiscal Cliff. The clock is ticking...
Builders Increase Construction, Supply still Scarce
David Urani
Yesterday we mentioned that while housing continues to see demand hold up, it's the supply dynamics that are perhaps even more positive for the prospects of new home sales in the near term. Months' supply of existing homes and homebuilder confidence, as we saw yesterday, were at their best levels in six years. Those trends were backed up by today's housing starts report for October, which showed building activity at its highest level in more than four years (July 2008). At 894k annually, housing starts were up 3.6% from September, above the 836k consensus. Interestingly, the consensus had called for a 4% decline. Starts of single-family units did remain flat (down just 1k) but were also just under the four year high. However, permits for new construction did go down by 2.7% to 866k, falling in line with consensus.
The most surprising part of the report for me was completions, which jumped all the way from 674k to 772k, the highest since August 2009. That's significant because even as starts rose to these multi-year highs, the supply of new homes remained in a downtrend. The latest reading showed supply at 145k units in September, up just slightly from the August low.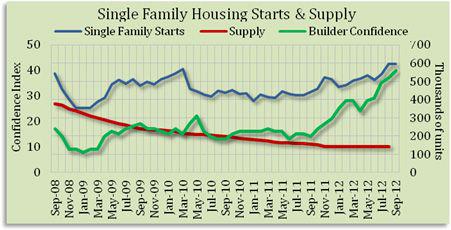 Consequentially, the fact that supply seemingly has yet to bottom out (or may have just finally done it in September) while demand rises, is why months' supply of homes is at such a low level. For new homes, there's only a 4.6 month supply. It's no wonder then that homebuilder confidence is high and starts are on the rise. In a way, the fact that completions surged last month means that there's more sales potential given that realtors in some areas of the country have been reporting shortages. This bullish supply/demand dynamic is what continues to support the long term potential for housing.