David Silver
The market started under pressure this morning as despite some strong economic data, the Dow and S&P traded lower. However, the market has bounced back nicely and is trading roughly flat for the day. The Fiscal Cliff countdown continues around the media world, and the rhetoric is being increased and intensified. Many feared that Republicans would stick their heels in the sand and not allow any additional sources of revenue (higher taxes), and that Democrats would refuse to budge on spending. However, as we get closer (only 34 days until we take that fitful plunge) to the Fiscal Cliff, Congressman and Senators alike are coming out in favor of compromise, not wanting to be the ones left behind when the "holiday spirit" rushes through Congress. That was a little bit of sarcasm, it is not the holiday cheer that will force both sides of the aisles' hands, it will actually be their constituents. Hopefully it won't be another example of just kicking the can down the road, but actually seeing something accomplished.
Speaking of kicking the can down the road, Greece's problems have been delayed until essentially 2016. A new tranche of government aid bought the time Greece needed with not too onerous stipulations for the repayment. The debt to GDP ratio requirement was supposed to be 120% by 2014, but now it has been raised to 124% by 2016. I truly hope we are not still in this mess by 2016; but if Greece isn't fixed by then, you better believe that other countries across the world will have slipped back into recession. Back to the Fiscal Cliff briefly... you also better believe that if the U.S. falls off the Fiscal Cliff and slips back into recession, most of the world will follow us back in.
There was a plethora of economic data released today, and for the most part it was a positive day, but it got an odd reaction from the market. Home prices were higher and durable goods were relatively strong; however, the market traded lower immediately following the reports. As we said, the Dow and S&P have bounced back, but it was an interesting reaction to the reports.
Case Shiller
David Urani
The Case Shiller home price index for September showed another positive point for the housing market, with a 0.4% month to month increase, which was in line with consensus estimates. That follows an equivalent increase in August, and is the eighth increase in a row. Chicago was actually the only one of the 20 cities in the report to decline for the month, reflecting the continued broad rebound in national housing trends.
As we usually say, the Case Shiller index is probably the most accurate of the home pricing reports, but is also quite lagging, being a three month average through September. Nevertheless, it is more evidence to support the housing rebound story.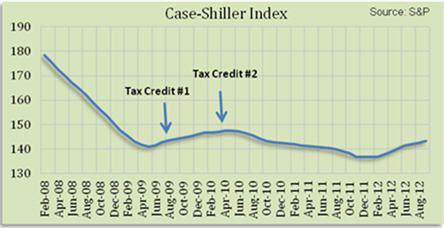 Durable Goods
Durable goods orders for October came in flat for October versus an expected decline of 0.8% which was a relief. Perhaps more importantly, "core" orders excluding transportation were up 1.5% versus an expected 0.4% decline.
It's not just that durable goods orders beat consensus, but obviously there's been a lot of nervousness surrounding the Fiscal Cliff, and in particular one thing that tends to suffer during times of uncertainty is business investments. Durable goods are a good glimpse into companies' willingness to make big purchases. Looking deeper, it turns out non-defense capital goods orders were also up by 1.7% to $61.1 billion.
Not a super result, but good considering that a decline in orders would not have been a surprise.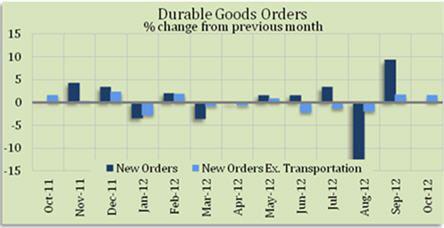 Consumer Confidence
The Conference Board's consumer confidence index rose to 73.7 in November, which was up from 72.2 and above the 72.8 consensus. That's the highest it's been in over four years. This echoes similar results from the University of Michigan's index and frankly it is impressive how upbeat the consumer has been despite everything that is going on (think Greece, Fiscal Cliff, Israel-Palestine conflict, civil war in Syria). Looking into the details, consumers' perceptions of current conditions remain unchanged at a four year high, while expectations rose. Perhaps the primary reason for the optimism is in the job market, where 11.2% say jobs are plentiful, up from 10.4% in October.