Carlos Guillen
Despite a rather encouraging start to today's trading session, stocks have lost their gains and are now in the red. While there is little in terms of economic data out today, investors continue to worry about the upcoming Fiscal Cliff and about declining world demand.
Yesterday's rather negatively surprising manufacturing data is still resounding in the minds of investors and has led crude oil prices to slip further. Brent crude oil price headed south towards $110 a barrel today mostly as a result of the weak ISM manufacturing data coupled with the stagnant U.S. budget negotiations. However, the still latent tensions in the Middle East including a fragile ceasefire between Israel and Gaza and worsening unrest in Syria, have served to ease the drop in crude oil.
It is clear that the U.S. manufacturing data has outweighed the positive impact from Chinese manufacturing data, which reaffirmed the view that growth was picking up in the world's second largest economy. At the moment, it is encouraging that Chinese leaders remain committed in keeping their economic policies stable; even with the upcoming leadership change in March, Chinese officials standing ready to boost stimulus should the recent rebound in economic growth reverse.
Over in Europe, Greek consumers appear to be gaining some confidence that things will not get worse for them. According to the Foundation for Economic and Industrial Research (IOBE), its economic sentiment index rose to a 20-month high of 79.0 in November from 75.8 in October.
At the moment, markets are losing their grip and are slowly slipping further with the Dow being more than 60 points off its highs and down almost 15 points. While this is still relatively a small change, given the lack of economic data we would have liked to have seen stocks in slightly green territory, but fiscal cliff worries and disappointing manufacturing data from yesterday are still in investors' minds.
Auto Sales Went Back For Seconds During November
David Silver
We turn the calendar again, and you know what that means... auto sales! I know, try to contain that excitement. November is shaping up to be one of, if not THE, best month of the year. Ford (NYSE:F), Toyota (NYSE:TM), and Chrysler all reported strong monthly results. General Motors (NYSE:GM) reported a sales increase compares to November of 2011, but results came short of expectations. Ford's sales were 6.5% higher year over year, with small cars leading the way, gaining 15% while truck sales gained 3.7%. GM saw sales increase 3.4%, below the 7.6% that the Street was expecting.
Small cars were again strong during the month despite the drop in gasoline prices. Truck sales were relatively strong for Ford, gaining 3.7%, with Ford's F-150 full-size pickup truck increasing 17%, while GM's rival Chevrolet Silverado pickup saw sales drop 10%. GM blamed the decrease on "increased competition," which boils down to GM got "its butt kicked by Ford." Chrysler put in a strong month as well, seeing sales increase 14.4% year over year, with truck sales increasing 10% (passenger car sales increased 27%).
Sales of cars and light trucks jumped 15% to 1.14 million in November compared with a year ago and the seasonally adjusted annualized sales rate was 15.5 million, the highest since January 2008, said market researcher Autodata Corp.
(click to enlarge)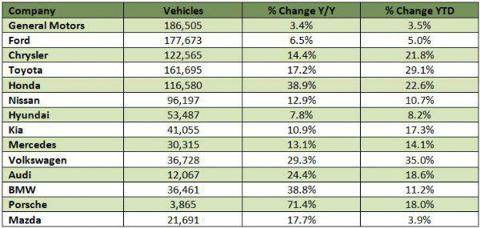 Click to enlarge
Supply was a little high across the industry, which some are trying to blame on Hurricane Sandy (not sure I really buy that), but sales in the Northeast were definitely delayed due to the storm, and the 250,000 vehicles that were damaged during the storm eventually will need to be replaced. That is why I am so surprised about the increased inventories; if vehicles were destroyed as a result of the storm (some of the damage must have been felt by inventories on dealers' lots), they should be heading out to purchase a new vehicle, not seeing increasing inventories. However, Hurricane Sandy didn't prevent Joe Plumber in the Corn Belt from purchasing his new car. Ford indicated that Sandy added approximately 20,000 to 30,000 in sales during the quarter.
Sticking with the days of inventory available, GM is last on the list by far with 245,853, or 139 days of inventory of unsold full-sized pickup trucks on lots around the country. That is a staggering figure. As a result, GM's management is slashing production and taking away an extra of work at a plant in Ohio. The plant doesn't produce trucks, it produces the Chevy Cruze which is actually performing well, gaining 27.0% during the month.
In a good sign for the industry, average transaction price increased 1.1% to $30,832 according to truecar.com. Incentives were on the rise, it increased 4.4% year over year mainly as a result of Nissan's (+44.9%), Hyundai's (+29.2%), and GM's (+20.0) incentive increases which offset the declines in Chrysler (-22.0%) and Ford (-21.1%). That means that sales are up on stronger pricing and for the Detroit's automakers, it means higher profits. GM indicated it was shocked at the level of incentives for its competitors (namely Dodge and Ford), but in total, the Dodge Ram had incentives that were with "a few hundred dollars" of the levels of November 2011, and Ford's F-150, which saw sales increase 17%, had incentives that was only $100 more than last year.
(click to enlarge)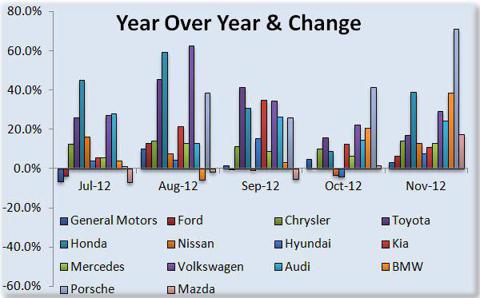 Click to enlarge
Hyundai and Kia bounced back from the embarrassing overstating fuel efficiency figures, which is a part of the reason the 29.2% increase incentives wasn't that big of a deal. Now Ford is dealing with a potential engine fire in its Escape and Fusion models. However, fuel efficiency continues to be the name of the game, and Ford is beating many of its competitors in this race. Toyota has the lead by a long shot with its Prius, but Ford is making a good push. Profitability is improving for the auto industry as well around the world (save for Europe). I also expect the worst to be behind us with respect to Europe, so sales and profitability should begin to rebound; it will not be a quick rebound, but it will begin to grow.