Carlos Guillen
Equity markets are losing the momentum gained over the last two sessions and are indecisive of which way to go. One rather important leading indicator came in better than expected, but that has not moved markets today. Perhaps the news that Fitch may cut the United States credit rating has served to neutralize any bit of encouragement caused by the positive economic indicator.
Perhaps giving some solace to investors, building permits came in better than expected. Given that building permits is a proxy for future construction and a leading economic indicator, the better than expected result is clearly indicating that the housing industry is improving in the near term. While this should have given equities some lift, it appears to have been neutralized be the less than expected result for housing starts.
In addition, as the Fiscal Cliff situation drags on, Fitch Ratings said today that the United States could lose its AAA credit rating should a deal not be reached. This is the second warnings that the ratings agency has given after the Standard & Poor's actually did cut the U.S. back on August 6 of last year. If the fiscal cliff scenario does indeed come to fruition, the effects on the economy would be disastrous. According to the most recent estimates from the Congressional Budget Office, it predicts that the fiscal cliff would cause the economy to shrink by over 4% in the first quarter of 2013, enough to cause a double-dip recession. At the moment, however, markets still believe that policymakers would not be that insane as to let the economy take a plunge. Moreover, Fitch did say it was expecting a compromise to be reached to avoid $600 billion in tax hikes and spending cuts scheduled to take effect on January 1, 2013, which could tip the U.S. into recession. In the small chance that we do go over the fiscal cliff, we can expect to see stocks take a plunge as well.
At the moment, investors continue to wait to see what one side offers, followed by what the other side offers, and so on, like a tennis match. Nonetheless, everyone is hopeful of a resolution before the end of the year.
Housing Starts
Data from the Census Bureau shows that annualized housing starts slowed by 3.0% month to month to 861k units versus the consensus estimate calling for 865k. Yet, new permits for construction rose by 3.6% to 899k units, stretching to new four-year highs. Altogether, it gives somewhat of a mixed picture for new home construction. Given that this data point tends to have a fairly high margin of error month to month, we're not going to read too much into this one month's data set. The market has also apparently not drawn a conclusion; with housing stocks essentially flat on the day.
Looking at the data a little closer, there were interestingly declines in the Northeast for both starts and permits. Of course, there's been an eye on that region since Hurricane Sandy as people expect there to be a rebuilding effort. Perhaps it's too early for any increases to be seen there, as cleanup, insurance and other matters get settled before the groundwork can be laid for new construction.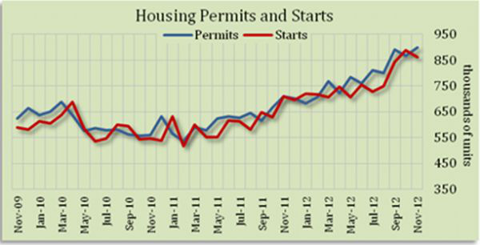 Cliff Talks Overlook Payroll Tax
Obviously the hot button issue in Washington is taxes on the "rich." Whether it is $250k, $400k or $1 million, it is surely going to happen at this point. However, the talk from Obama, Boehner, and even the media, seems to be skipping a key tax issue in the payroll tax cut, which set to expire at the end of this year. Everybody has been getting a 2% tax reduction for the past two years, which for the average American (making $50,000) comes out to roughly $1,000 per year.
Frustratingly, this item continues to be seemingly skipped over, and in fact, much of the chatter out of Washington seems to suggest that both sides are poised to let it expire. For me, this is a big issue that's not being treated like one, especially with the President continually stating how important it is that we not let taxes increase for the middle class next year; certainly letting the cuts expire equates to taxes going up.
That would have a real economic impact, too, with JPM JP Morgan estimating a $125 billion loss in disposable income and with GS Goldman seeing a 0.6% hit to 2013 GDP.
Treasury Sells Portion Of Stake At Big Loss
David Silver
On the morning of December 19, General Motors GM announced it will be purchasing 200 million shares from the United States government for a price of $27.50. GM will pay $5.5 billion for the shares in a deal that is expected to close by the end of the year. The remaining 300 million shares will be sold over the next 12 to 15 months beginning in January, and still account for approximately 19% of the outstanding shares on a fully diluted basis.
From a GM shareholder's standpoint, this is amazing news! The Company is getting rid of one of the three overhangs that have acted as an anchor on share prices. Despite not having an "active" role in running the automaker, the government's ownership was preventing CEO Dan Akerson from completing the turnaround story. The Company can't attract the talent it needs to take GM to the next level; it was forced to tap former executives that helped to run GM into the ground. Now, GM will be able to attract a new CEO with a competitive pay structure. The other two overhangs that I still see for GM are pensions and Europe.
As a taxpayer in the U.S., I am pissed at this deal. If the government has such confidence in GM's progress, why can't we get a higher price than $27.50? Prior to this deal, the Treasury needed to sell its shares at $52.50 to break even on its investment. After the Treasury sells its 200 million shares at $27.50, the breakeven point increases to just south of $70 per share. That means we are taking a nearly 50% loss on these 200 million shares, and an even bigger loss on the remaining 300 shares. I know it would be a very long time before our investment reached the $52 level threshold, let alone the $70 area to break even, but still it seems like we are jumping the gun.