By Carlos Guillen
After a three day weekend, it is encouraging to see that investors have comeback ready to put some cash into stocks, allowing the Dow Jones Industrial Average to continue reaching new highs not seen since December 2007.
Today's positive move in stocks comes after an encouraging action by the Bank of Japan, which is now embarking on a plan to stimulate the country's stalled economy by pumping more money into it. The Bank of Japan agreed today to double its inflation target to 2 percent and stimulate its economy for an indefinite period through asset purchases. If this sounds familiar, well ... it is; that is because this is the same monetary policy maneuvering that we have been implementing here at home. Given that Japan is the world's third largest economy, any form of stimulus certainly bodes well for equity markets around the world, and this is evident today in our markets as well. That being said, the program doesn't start until next year which disappointed Japanese investors.
On a bit of negative news, existing home sales here at home unexpectedly dropped in December as the lowest supply in more than a decade cut into the industry's best year since 2007. Despite the monthly drop, however, 4.65 million homes were sold for all of 2012, the most in five years and a sign the housing market is taking steps toward recovery. It was also encouraging that the usual drop in supply at this time of year combined with a pickup in demand spurred by historically low mortgage rates and by an improving job market, has lifted prices for homes even higher after last year's rebound; more on this below.
In all, stocks are continuing to make slow but steady gains so far into today's trading session, with the Dow up over 30 points. While the rest of the week will be light in terms of economic data, the main drivers will come from the ramping number of companies reporting their financial results. Some of these include Google, IBM, and Texas Instruments reporting after the bell today.
Home Sales Hold Up as Supply Dwindles
By David Urani
The December existing home sales report from the National Association of Realtors is in and it wasn't necessarily an encouraging result for the market, having posted a 1.0% decline month to month to 4.94 million units annually. That was also below the 5.1 million consensus estimate. Breaking out single family units it was the same story, with a decline of 1.4% month to month to 4.35 million units. Regionally, sales were down modestly in the Midwest and South, and up modestly in the Northeast and West.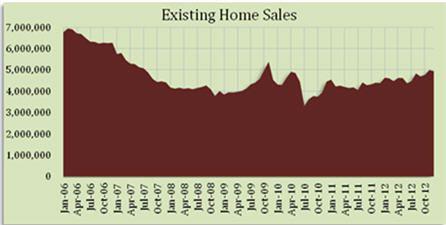 Despite the slight lull for the month, recall that this December result is down from a strong November number that, aside from a tax credit fueled 5.4 million unit reading in late 2009, was the best result since mid-2007.
I am actually somewhat encouraged by the data, as even though the demand side was flat the supply side remains bullish. Total inventory of existing homes went down by another 8.5% month to month, a fourth month in a row of declines. That puts the supply of homes at 1.8 million, or just a 4.4 month supply. Supply hasn't been this short since mid-2005, when the housing boom had huge momentum.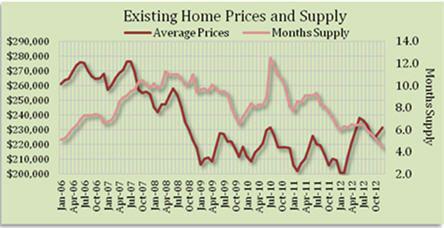 Consequentially, the supply/demand picture may continue to give prices upward pressure. And in the meantime, it may be a bullish omen for homebuilders, who may help to make up for shortfalls in supply. In fact, the flat headline result for existing home sales may partially be a function of a lack of available homes for sale in some regions.