By Carlos Guillen
Stocks got off to a great start at the beginning of today's trading session, fueled by very encouraging new orders results; however, less than expected housing data took equity markets in a different direction.
Very encouraging today was that durable goods orders landed above expectations. According to the U.S. Census Bureau, new orders for manufactured durable goods during December increased month-over-month by 4.6 percent to $230.7 billion, better than the Street's consensus estimate calling for a 1.6 percent month-over-month rise. Moreover, excluding transportation, new orders increased by 1.3 percent, higher than the consensus estimate calling for no change. Perhaps a bit less encouraging was that orders of non-defense capital goods, excluding aircraft, rose by 0.2 percent, after increasing by 3.0 percent in the prior month.
Overall, however, the capital goods trend has been rather favorable, and it is giving more confidence that fourth quarter gross domestic growth may be better than expected when it comes out this coming Wednesday. These orders are considered a proxy for future business investment in items such as computers, engines and communications gear, so with three months of stronger than expected growth in capital inventories, overall economic growth is certainly looking more promising in the short term. At the moment economists expect to see GDP growth of 1 percent for the fourth quarter, but given the strength in capital spending, we might see a positive surprise.

On the housing front, the index of pending home re-sales fell last month after reaching an over two year high in November. According to the National Association of Realtors, pending home sales during December dropped 4.3 percent, while economists expected no month-over-month change. Perhaps encouraging was that the drop in pending home sales was the result of a limited supply of available homes, and its level was still 6.9 percent above that reached in the year-ago month. While it is likely that we will see a slowdown in existing homes sales during the next couple of months, as pending homes data is usually a leading indicator for home sales, we believe the trend is still positive for home sales this year. Last year 4.65 million homes were sold, the most in five years and a sign the housing market is taking steps toward a healthy recovery. Moreover, the Realtors' group forecasts that sales will rise 9 percent this year as the recovery strengthens: more on this below.
In all, despite that the economic data has pulled the market in different directions, stocks are still at levels not seen in five years. At the moment, the Dow Jones Industrial Average is down just 15 points and is holding on to daily support levels.
Pending Home Sales
BY David Urani
The December Pending Home Sales Index from the National Association of Realtors came in with a 4.3% month to month decline which fell short of the consensus estimate of a slight decline. That said, sales did remain 6.9% higher than that of a year ago.
Despite the decline, we don't want to try to read into the result too much. Winter is typically a slow month anyway, making readings at this time of year susceptible to some volatility in the seasonal adjustments. Also, although the National Association of Realtors tends to always be bullish they have a point when they say tight supply is limiting sales. Thirdly, and perhaps most importantly, December wasn't a very good month for consumers as potential homebuyers might have been put off by all the Fiscal Cliff hoopla, not knowing what would happen to their taxes or if the government would send us into recession.
We'll get a better idea when we head into the spring selling season how well sales are going to stack up this year.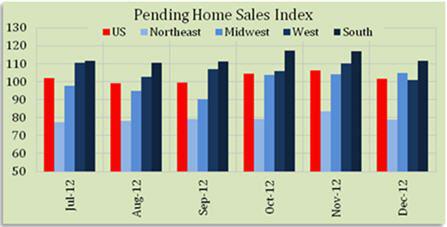 Durable Goods - Keep an Eye on Boeing
The market initially cheered the +4.6% month to month increase in durable goods orders but it might not be quite as great as it appeared. The result was lifted by a 10.1% increase in nondefense aircraft, which makes sense as Boeing received a decently large order during the month (183 versus 124 in November). Given Boeing's recent problems with grounded flights on battery problems in the Dreamliner, we wouldn't necessarily expect much out of this for January. Excluding that, orders were good but not great at +1.3%. And then looking at capital goods minus defense and aircraft, it was up just 0.2%.
But as with almost all data for December, it may have also been held back by the Fiscal Cliff issue.