By Carlos Guillen
Equity markets are making a rather surprising move to the upside despite rather pessimistic consumer confidence data; however, better than expected housing data appears to be giving investors the encouragement they need to drive markets higher.
Clearly today's most worrisome bit of economic data came from the Conference Board, as it showed that consumer confidence fell for a second consecutive month, erasing all the gains made through last year. According to the Conference Board, its consumer confidence index fell to 58.6 in January from 66.7 in the prior month, landing well below the Street's consensus estimate of 65.1. The result served to corroborate the data published by the University of Michigan 11 days ago, which also showed further deterioration in sentiment, as the University of Michigan Consumer Sentiment January preliminary result landed at 71.3, which was lower than the Street's expectation of 75.0 and lower than the 72.9 reached in the prior month. It is apparent that the main reason for the rather sharp drop in confidence was that the increase in the payroll tax has undoubtedly dampened consumers' spirits. It is also likely that confidence will remain depressed for some time as consumers adjust to their lower paychecks. In general, more consumers see business conditions getting worse and see the job market deteriorating.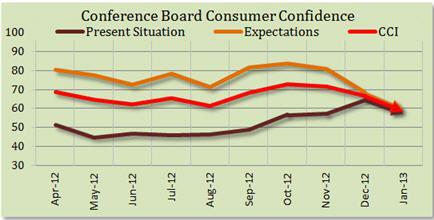 Even more discouraging was that consumers' short term outlook also worsened in January, taking the Expectations Index down to 59.5 from 68.1. The percentage of consumers expecting better business conditions during the next six months decreased to 15.4 percent from 18.1 percent; however, those anticipating business conditions will worsen decreased a bit to 20.6 percent from 21.1 percent. Consumers' outlook for the labor market was also further depressed, as those expecting more jobs in the months ahead decreased to 14.3 percent from 17.9 percent, although those anticipating fewer jobs remained flat at 27.0 percent. Also discouraging was that the proportion of consumers expecting an increase in their incomes declined to 13.6 percent from 15.6 percent, and worse was that those expecting their incomes to decline rose to 22.9 percent from 19.1 percent.
Despite the depressing consumer sentiment results, housing data has helped lift markets today. Home prices rose in November to rack up their best yearly gain since the housing crisis began, a further sign that the sector is on the mend; more on this below.
As it stands, stocks are continuing to make gains during today's trading session with the Dow Jones Industrial Average up over 65 points, or close to half a percent rise, coming closer to all time highs reached in 2007.
D.R. Horton Hits a Homer, Home Prices Higher
David Urani
D.R. Horton posted a homerun earnings report this morning with a bottom line result of $0.20, a $0.06 beat versus consensus. That was driven by sales of $1.22 billion (versus the $1.13 billion consensus), up 39% year over year, as home closings were up 26% along with increased prices due to pricing strength, larger average homes, and geographic mix. To be fair, D.R. Horton is one of the strongest homebuilders in our view and others may be challenged to replicate earnings quite this good, but the results are yet another endorsement of the rebounding housing market.
The company's namesake chairman, Donald Horton, went as far as to say "D.R. Horton is the best positioned it has been in its 35 year history. We are looking forward to the spring selling season with optimism."

Not only were sales relatively strong (note: the quarter to quarter declines are seasonal winter slowdown) but gross margin continued to march higher, to 18.8% from 16.8% a year ago and from 18.1% in the prior quarter. And the outlook for sales in the coming quarter remains positive, with new orders having accelerated to +39% year over year versus +24% in the previous quarter. As a result, units in backlog are up 62%, and even more impressively the dollar value of backlog is up 80%.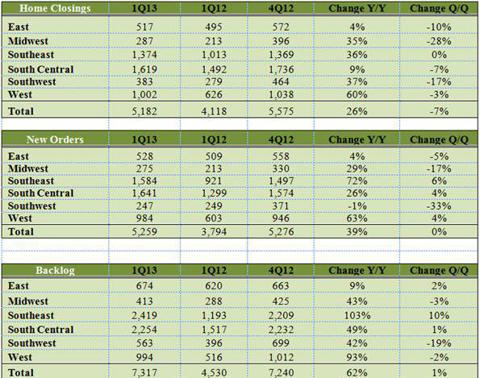 Following its strong showing for the quarter, DHI stock is up more than 10% mid-day to a five and a half year high.

As we noted for Monday's pending home sales report, nationwide sales are being held back to an extent by a short supply of homes in a number of areas. And that's where D.R. Horton gets an advantage over most of the competition; it's one of the largest homebuilders, with $5.0 billion of home and land inventory. In a way, it's able to turn in stronger sales results because it has had the resources and liquidity to build up supply whereas many smaller builders aren't as well equipped to take advantage of rising demand. Tight credit is one hurdle for some builders. In the meantime, we would also note that D.R. Horton is quite a diversified company geography-wise and it isn't overly exposed to any particular markets in the event of turbulence.
But with respect to any regional turbulence, the Case Shiller home price report this morning showed us that the pricing recovery seems to have remained on track in all regions except for New York (where interestingly Mr. Case himself says decreased banker bonuses are the culprit).

I will say that the Case Shiller index is a very lagging indicator, being from November while also being a three-month average. Nevertheless, it's probably the most accurate and showed a 0.6% month to month increase in national prices (10th increase in a row), while showing overall prices up 5.6% year over year. In the meantime, prices are still a full 30% off of 2006 levels and while I don't necessarily see them bubbling up quite that high again you can see the rebound potential.