By Carlos Guillen
It is simply remarkable how tenacious equity markets have been for the last couple of weeks, and today we can see more of that tenacity with the Dow Jones Industrial Average up over 40 points, more than making up for the 21 points it lost in yesterday's trading session. With little in terms of major economic drivers today, investors are focused elsewhere, looking at Europe and Japan and awaiting President Barack Obama's State of the Union address tonight.
Earlier today European stocks and the euro were under pressure after Moody's Investors Service Inc. lowered its growth outlook for some of the world's biggest economies. Moody's said it expects real gross domestic product for the eight advanced economies in the Group of 20 industrial and developing nations, including the U.S., Japan, Germany and the U.K., to be around 1.4% in 2013. That is 0.2 percentage points lower than the previous forecast by Moody's in November. Investors, however, quickly brushed off the slightly negative news, having virtually no impact on stock trading.
Most Asian markets are still closed for the Lunar New Year holiday, including China, Japan, Singapore, Hong Kong, and Korea, but Japanese markets returned from a long weekend. Helping to lift markets were comments from Economic Minister Akira Amari that suggested that he would like to see the Nikkei reach 13,000 by the end of the fiscal year on March 31, which gave hope to investors that stocks would see a boost in the near term.
Here at home, investors continue to look to President Barack Obama's State of the Union speech to see if it will be convincing enough to gain the support of the public and of Congress on his goal of "balanced" deficit reduction.
At the moment stocks are continuing to ramp higher on very little economic drivers, but volumes are still light, so a pull back is certainly not out of the question.
Small Business Bummer
BY David Urani
January's NFIB small business optimism index was another disappointment, posting a reading of 88.9, which although up slightly from the 88.0 reported in December, was still one of the lowest readings in the 40-year history of the survey. That was centered around a dismal -30 reading for expectations over the next six months.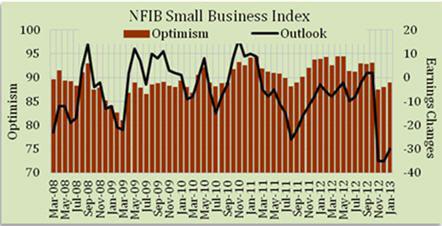 This month's survey is particularly interesting given that the Fiscal Cliff debates late last year had crushed small business sentiment. As it turns out, the actual result of the Fiscal Cliff discussions did little to help optimism. And how can you blame them, as 2013 brings higher taxes (much of which comes from the higher income tax rates on the "rich" which also includes a multitude of small businesses) as well as increased healthcare costs and more regulations.
As it stands, more small business owners are reporting declining sales than growth, and only 11% have hired in the past few months. Taxes and government requirements remained the two biggest problems for small businesses with 21% of the tally each, followed by poor sales at 19%.
NFIB Chief economic Bill Dunkelberg unsurprisingly remains highly critical of the President saying, "owner pessimism is certainly not surprising in light of higher taxes, rising health insurance costs, increasing regulations and just plain uncertainty. The President will address the state of our nation tonight, but he apparently won't have much that's positive to relay to our small-business community-not while the pall of uncertainty over economic policy continues to depress investment spending and growth."