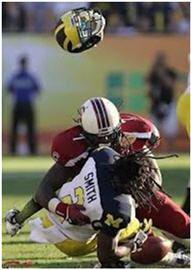 Crunch!!!
The news is out, and it has us all feeling like Vincent Smith of Michigan University, who was at the wrong end of what many are calling the best hit in college football history. That hit was leveled by Jadeveon Clowney of South Carolina. That's the same school that released its latest report on consumer sentiment-it reveals a consumer that feels blindsided and beleaguered.
The headline number of 71.8 is not only down substantially from last month's 77.6 and below the consensus estimate of 78.0 but also the lowest since December 2011. Talk about a bell-ringer. Of course the media covered immediately, blaming it not on Washington polices but Washington politics. It's not good stuff coupled with comments from a lot of retailers this week-it's time for hard-hitting policies that aim at growth not punishment.
In case you missed it, here's the action hit (Youtube):
http://www.youtube.com/watch?v=FSHvC3orb8M

Sentiment Data Ends the Dow's 10 Winning Streak
By Carlos Guillen
After reaching its 10th consecutive day of record highs, the Dow Jones Industrial Average is now having great difficulty trying to make up losses posted earlier today after Michigan Sentiment data certainly caught investors by surprise. However, there was a bit of good news coming from the manufacturing industry in New York.
Manufacturing in the New York region managed to hold fairly well after spiking higher a month ago. According to the Federal Reserve Bank of New York, its general business conditions index March result landed at 9.2, higher than the Street's consensus estimate of 6.5, but decreasing from the 10.0 reached in February. Given that readings greater than zero signal expansion, this month's result makes the second month of expansion after six months of contraction in the region that covers New York, northern New Jersey, and southern Connecticut. Certainly encouraging was that index for the six-month outlook pointed to an increasing level of optimism about future conditions. The future general business conditions index rose three points to 36.4, its highest level in nearly a year.

CPI
By David Urani
The Consumer Price Index (NYSEARCA:CPI) is another factor weighing on the American consumer, having risen by 0.7% in February (above the 0.5% consensus estimate). Excluding food and energy, prices were up 0.2% (in line with expectations). As we noted about retail sales earlier this week, an increase in gasoline sales was the main driver and a big yellow flag. Well, that was echoed today in the CPI as gas prices sprang up by 9.1% (crunch!). Of course, gas prices tend to rise through the summer so beware more pump shock as the weather warms up.

Aside from gas, a couple of the bigger gainers were shelter and used autos; while new autos, apparel and airfare were a few standout decliners.