US auto sales released yesterday were mostly a mixed bag, although they were "good" news overall as light vehicle sales came in at an annualized rate above 15.0 million. General Motors GM reclaimed market share overall but lost share in total cars, and even its strong showing in light trucks has to be asterisked because of a $7,500 cash back offer for the Silverado.
I find it amazing, with all the talk of fuel-efficient cars and trucks, that once again it was the gas guzzlers that stepped to the plate and help the industry with what is being cheered as a great report and proxy for the American economy. To a degree it's a good sign, but those that hate the stock market because of cheap money would dismiss auto sales and the rebound in housing for the same reasons. Actually, I think the Fed has had a greater impact on those industries than the stock market thus far.
On that note, I think F had the most to celebrate with its strong sales of trucks, although there was a misstep for the Lincoln brand, which we down 23%, resulting in a slight dip in market share of cars. It appears that overall the news helped to move the stock market needle. There is no doubt we must get good economic news on the domestic front soon-I'm not sure how much longer we can play the rational and easy comparison game.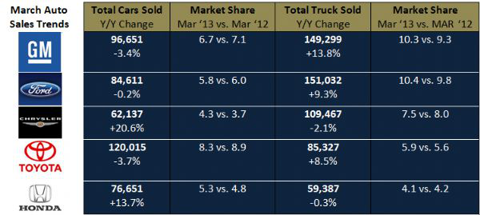 Pick Up Trucks and SUVs
It sounds like a Country-Western song, but pick-up trucks and SUVs carried the auto industry even with gas prices elevated and incomes depressed. It really makes me wonder what the White House will ultimately do to force Americans into those shoe-boxed sized cars. While the Prius, easily the most successful "green" car in history, was plunging 22.9% for the month almost all trucks and SUVs were higher.

ADP Jobs Report
The ADP jobs report is a dud this morning with respect to the notion there is a wind in the sails of the economy. The fact of the matter is we will not grow this economy to optimum potential under the current agenda of the White House.