By Carlos Guillen
Quite disenchanting this morning was the ADP report, which showed that less than expected jobs were added to the economy and raised a sense of caution about what to expect this Friday when the government's numbers are delivered. According to ADP, non-farm private sector jobs increased during March by 158,000, worse than economists' average forecast calling for a 197,000 increase, but still making 37 months of nonfarm gains. It should also be noted that non-farm private sector job gains in February were revised higher by 39,000 to 237,000, which serves to offset the short fall in March.
The data showed that payroll gains were achieved across the board but were predominantly driven by small businesses, which added 74,000 jobs. Large business payrolls increased by 47,000, and medium businesses added 47,000. Not surprisingly, most of the added jobs came from the services sector, which ADP said added 151,000 jobs, while the goods-producing sector experienced a gain of 7,000 positions. At the moment, economists are predicting that the government numbers to be released this Friday will show that private sector businesses added 210,000 jobs in March and that the unemployment rate likely remained flat at 7.7 percent.
(click to enlarge)

Click to enlarge
Part of today's lack of enthusiasm also came from a worse than expected non-manufacturing sector result. Similar to data from the Institute for Supply Management (ISM) this past Monday that showed U.S. economic activity in the manufacturing sector (PMI) expanding at a slower rate in February and landing worse than expected, ISM data posted today showed that economic activity in the non-manufacturing sector (NYSE:NMI) continued expanding during the same time period, but at a much slower pace. The Non-manufacturing ISM Index in March clocked in at 54.4 percent, decreasing from the 56.0 percent reported for February and landing below the 55.5 percent consensus estimate. However, the result did represent the 39th month of consecutive growth. Perhaps a bit discouraging was that employment activity in the non-manufacturing sector decreased to 53.3 from 57.3 percent, indicating growth in employment for the eighth consecutive month, but at a slightly lower pace. Moreover, of the ten available components of NMI, nine non-manufacturing industries still reported growth In March, although seven of them at a slower pace. And while respondents' comments were optimistic about the overall direction, there was an underlying concern regarding the uncertainty of the future economy.
(click to enlarge)

Click to enlarge
Bitcoin Bonanza
BY David Urani
The story of the Bitcoin is one that's been getting stranger by the minute, largely because of the meteoric rise of the currency in just the last month. In case you haven't heard of it yet, a Bitcoin is a digital currency that has no central origin (it's based on peer-to-peer internet), and an algorithm gradually adds supply. The funny thing is, nobody knows who invented it (it was developed by a person or group under the alias Satoshi Nakamoto in 2009). Nevertheless, these days it's looking almost like the next big safe haven for the doomsayer types that may have previously been gold bugs.
As of today the value of one Bitcoin is pushing $140, and it was worth less than $40 just a month ago. It's likely no coincidence that it happened as Cyprus went into crisis, and perhaps more importantly the eurozone announced that it could hijack bank accounts. This impressive rise of the Bitcoin is just further evidence of the faith being lost in fiat currency, printed at the whim of central bankers and confiscated by bureaucrats to resolve problems of their own creation.
(click to enlarge)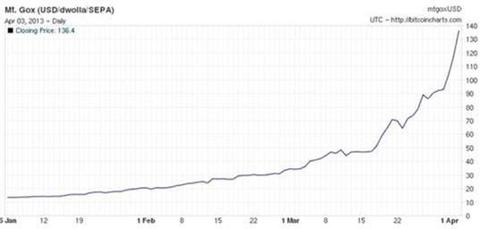 Click to enlarge
With that being said, I'm not quite sure why one wouldn't turn to gold first, it seems to be a hedge on the same fears that would drive one to convert their money to Bitcoins. Perhaps it's the fact that Bitcoin is more liquid; one can't really just carry around gold bars but with Bitcoin you own a digital wallet that is easily transferred from one place to another.
I'm not convinced that Bitcoin is anything but a passing fad, and the fact that it doesn't physically exist scares me; theoretically if the power goes out your all of your wealth disappears. Nevertheless, this has become more than just an experiment amongst a bunch of paranoid types looking to escape the system; there's a monetary base of more than $1 billion in circulation. Inventors of a Bitcoin ATM (it can dispense Bitcoins into dollars, or receive dollars and convert to Bitcoins) say they have more than 300 orders across more than 30 countries.