By Carlos Guillen
It is yet another great day for equity markets today as a favorable decline in initial claims data has contributed to the unstoppable investor enthusiasm that took the Dow Jones Industrial Average to the third consecutive day of all-time high record closing levels yesterday.
In a sudden turn of events today, employment data showed a sharp reversal in the number of people filing for unemployment checks. According to the Department of Labor, initial claims during the week ended April 6 totaled 346,000, decreasing from the 388,000 revised figure reported for the prior week and landing below the Street's estimate of 365,000. The fact that the number dipped below 350,000 once again was also encouraging and brought a sigh of relief, for the moment at least. On the other hand, the initial claims' four-week moving average was 358,000, increasing from the prior week's average of 355,000, but looks to be leveling off in the near term.

So far investors' enthusiasm has gained strong momentum, but let's hope this does not turn into a train wreck as retail same store sales are coming in rather tepid and investors are simply brushing this off. At the moment Analysts expect 13 top U.S. retailers to post a 1.8 percent rise in same-store sales for March, down from an increase of 2.9 percent a year earlier. And excluding drugstore chains Walgreen and Rite Aid Corp, whose results are heavily skewed by prescriptions sales, analysts expect a gain of 2.2 percent, down from a rise of 7.1 percent last year.
We should also note that PC sales are not looking good at all as IDC reported that it expects to see a 14 percent decline in PC shipments in the first quarter of this year, yet investors have also brushed this off.
Nonetheless, it is encouraging to see the Dow is on track to close at its fourth consecutive all-time record high, that is unless something unexpected pops up.
Wait, Maybe the Job Market Isn't so Bad?
BY David Urani
In the wake of last week's rough employment report, there have been a lot of experts out there finding (or at least trying to) silver linings. In fact, you could say investors have largely found them because ever since last Friday's drop, markets have charged higher and gone into new record territory.
A few of those arguments include the fact that unemployment dropped significantly in the 25-34 age range, we were strong in important areas like construction and business services, the unemployment rate was down, and the exodus from the workforce may actually be older folks retiring as opposed to people giving up. Certainly these are debatable points but you can tell they were in the back of the market's mind.
And therein lies the reason the market may be reacting well to this morning's jobless claims data. If one isn't sure what to think about the BLS report, the next best place to look is at jobless claims. In a way, I almost prefer jobless claims and find that it's a good leading indicator for a number of economic metrics.
Consequentially, when claims showed a drop to 346k from 388k not only did it plunge by a large margin, it also more than reversed a big uptick in the previous week. It also perhaps reinforces that drop in the unemployment rate.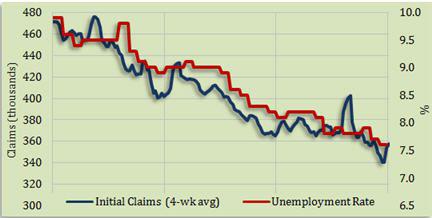 While at times I do question the unemployment rate due to the mass dropouts from the labor force (which has the effect of removing folks from the "unemployed" list), the sustained downtrend in initial claims in the past year has helped to reinforce it for me to an extent. It makes sense if you think about it; fewer people being laid off (decreased new jobless claims) means less unemployed.