By Carlos Guillen
Equity markets are making a strong bounce after slipping significantly yesterday, as encouraging data points in the cost of living and industrial production have more than offset not so encouraging housing data.
Perhaps a bit encouraging today was that increases in the cost of living appeared to decline this past month, mostly as gasoline prices receded. According to the Department of Labor, the Consumer Price Index (CPI-U) in March decreased month-over-month by 0.2 percent; this compares with the Street's consensus estimate calling for a 0.1 percent decline. Excluding food and energy contributions to the price index, core CPI increased month-over-month by 0.1 percent, while economists' average forecast called for a 0.2 percent rise. From a longer term perspective prices increased 1.5 percent over the trailing twelve months, which was a smaller rate than that reached in the year ago period of 2.6 percent, perhaps showing some disinflation action. The fact that inflation is running below expectations, coupled with slowing economic growth so far into the year, may actually serve to give the Fed more reasons to maintain its current path of very easy monetary policy, despite talks of bringing that policy to an end. Of course, stock markets do love easy money from the Fed; as such, stocks are sharply higher on the news.
(click to enlarge)

Click to enlarge
On another bit of positive economic data today, the Fed delivered better than expected industrial production and capacity utilization data. According to the U.S. Federal Reserve, industrial production during March increased month-over-month by 0.4 percent, better than the Street's consensus estimate calling for a 0.3 percent month-over-month rise. In the same time range, capacity utilization increased from 78.3 percent to 78.5 percent, landing higher than the Street's consensus estimate of 78.4 percent. Although the improvements are small, they are still indicating that the sector, which carried the economy's recovery from the most recent recession, is not deteriorating.
(click to enlarge)

Click to enlarge
At the moment the Dow Jones Industrial Average is up over 140 points, not quite making up for yesterday's losses of over 265 points, but certainly headed in the right direction. With earnings season unfolding anything is possible, but so far we are seeing a strong quarter particularly coming from the financial sector.
Stuttering Housing Starts
By David Urani
Yesterday we got a reading on homebuilder confidence that took a bit of a dip this month and that was followed up by a mixed result for March housing starts today, according to the Census Bureau. Headline starts actually made an impressive jump, up 7% month to month to 1.04 million units annually, and well above the 930k consensus. However, for me there were a couple of yellow flags that give me an overall negative outlook on the report.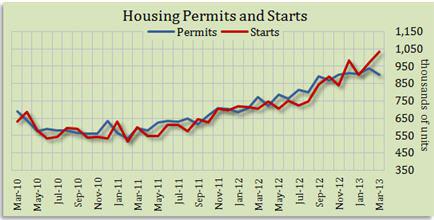 For one, permits, a more forward looking indicator of construction plans, were down 3.9% to 902k. But the main factor to point out is single-family starts, which were down 4.8% to 619k. The reason the headline starts number was so strong was because of a jump in the typically volatile multifamily category.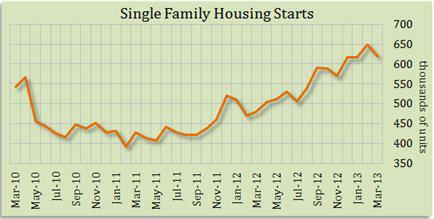 Nevertheless there had been quite a jump in single-family starts in February, by 5.5%, and the drop in March still leaves it above January. In that sense, we aren't going to assume one month is a trend. Nevertheless, taken in conjunction with a softer homebuilder confidence report and the fact that completed units actually jumped quite a bit (by 7% to 800k), you can see where builders may have had reasons to want to wind down activity a little.
Subsequently housing stocks have slipped from the morning highs, although the Dow Jones US Home Construction Index remains 1.4% higher on the day.