By Carlos Guillen
The slide in equity markets has continued so far into today's trading session, as overall economic data points indicate weak growth in the near term.
The number of people filing for unemployment benefits for the first time inched higher after making a significant dip in the prior week, not quite a reason to become concerned about a worsening jobs market, but certainly a bit disappointing as many out there are still hoping that the employment backdrop improves soon. According to the Department of Labor, initial claims during the week ended April 13 totaled 352,000, increasing from the 348,000 revised figure reported for the prior week but landing below the Street's estimate of 355,000. The data points continue to oscillate around the 350,000 level which economists say is consistent with moderate labor market growth of about 150,000 net new jobs a month, and from this perspective at least the hope for an improving jobs market still remains alive. On the other hand, the initial claims' four-week moving average was 361,250, increasing from the prior week's average of 358,500, so cautious optimism is certainly at play here.

Perhaps a bit encouraging today was data that showed that manufacturing in the Philadelphia region remained slightly positive for a second consecutive month. According to the Federal Reserve Bank of Philadelphia, its diffusion index of current activity April result landed at 1.3, lower than the Street's consensus estimate of 2.5, decreasing from the 2.0 reached in March. However, given that a level above zero indicates an economic expansion, this represents two months of growth, after February's 12.5 point contraction in the region covering eastern Pennsylvania, southern New Jersey, and Delaware, but indicators for new orders and employment were weaker this month. The survey's broad indicators of future activity suggest that firms expect continued growth, but at a lower level than in the prior month.

Another report showed that the index of leading indicators deteriorated for the first time in seven months, as government spending cuts appear to be hindering growth. According to the Conference Board, its Leading Economic Index (LEI) during March decreased month-over-month by 0.1 percent to 94.7, worse than the Street's consensus estimate calling for no change month-over-month. Moreover, of the ten components that make up the leading indicators, 5 were positive in March compared to 6 positive components in February. The positive contributors were the interest rate spread, the Leading Credit Index, stock prices, manufacturers' new orders for nondefense capital goods excluding aircraft, and manufacturers' new orders for consumer goods and materials.

Despite the fact that equity markets are still trading in losing territory today, it is somewhat relieving to see that the Dow Jones Industrial Average is holding above support at the 14,500. However, given the slew of companies still scheduled to report this earnings season anything is possible.
Peabody Ignites Coal Trade
By David Urani
Peabody Energy (BTU) turned in a better than anticipated Q1 result, and although it still ran at a $0.05 per share loss during the quarter, that was $0.09 better than consensus. In the meantime, revenue was down 14% year over year. Some of the relative success of the quarter could be attributed to cost management, but the factor that's particularly interesting to me is the ongoing fight between natural gas and coal for power generation.
Much of coal's bane in the past five years of course has been the gas boom here in the US lowering prices for natural gas. It's approximately below the price of $4 (per million BTU) that natural gas becomes the more attractive, cheaper option over coal. Yet over the past year natural gas prices seemingly bottomed out at $2 last April and have been trending higher. Just today, the EIA actually reported a weekly supply increase that was smaller than expected, which has led to a near 4% spike in natural gas futures to $4.38.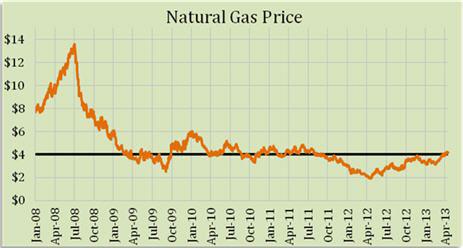 As Peabody reported today, that shift back to coal from natural gas was already occurring to some extent in the first quarter. Management commented that overall natural gas generation was down 11% during the quarter. Furthermore, that trend accelerated in March, when natural gas generation was down 16% year over year while coal was up 15%. Consequentially, Peabody's expectations for coal demand to pick up in 2013 over 2012 look well in place. That being said, BTU's Q2 earnings guidance was a little soft, with expectations of -$0.25 to +$0.01 per share versus the +$0.01 consensus. However, the guidance seems to reflect an operational event (moving two longwall mining operations).
For today, the coal industry is liking the results and commentary out of BTU, as well as the further spike in natural gas prices. Peers like Walter Energy (WLT +4.3%), Alpha Natural (ANR +8.6%), Arch Coal (ACI +11.6%) and Consol (CNX +7.2%) are having a strong day. BTU is up 9.8% mid-day. Nevertheless, keep in mind this is a beaten down industry that's coming off a low base. But if coal is indeed making a turnaround these heavily weighed-down stocks can make huge moves higher quite quickly.
Lastly I would also say that the government certainly has made it known whose side they're on in the natgas/coal battle. In that sense, this industry may not entirely be a "free market" and it's weighed against coal.