By Carlos Guillen
Equity markets are making strong moves to the upside as stronger than expected financial reports have more than offset weak macroeconomic indications from abroad.
Perhaps a reason to be concerned today was news that China's manufacturing sector is expanding at a slower pace this month, as both internal and external demand was weaker than expected, certainly exacerbating worries that a worldwide slowdown may be underway. The HSBC China PMI preliminary reading declined to 50.5 in April from the 51.6 reached in March, landing below the Street's consensus estimate of 51.5. On the positive side of things, given that the result is above 50, it signifies that the manufacturing sector is still in expansion mode, but growth is occurring at smaller steps.
Over in the euro zone, manufacturing and services output contracted for the 15th consecutive month, clearly showing that the region will continue to have great difficulty emerging from subpar growth. According to Markit's euro zone composite index, its level remained flat at 46.5, in line with economists' forecasts, still in contraction mode. As it stands, gross domestic product in the euro zone has contracted for five consecutive quarters. Moreover, the political fiasco in Italy and the recent bailout in Cyprus have come together to deteriorate confidence in the region. Just last week the International Monetary Fund lowered the region's growth forecast and urged the European Central Bank to pursue a looser monetary policy.
Perhaps more encouraging today was news that new home sales here in the U.S. came in line with expectations, helping to prevent further deterioration of consumer confidence.
In all, thanks to a wave of better-than-expected earnings reports and dividend increases, combined with hopes for more stimulus in Europe and in China, the Dow Jones Industrial average has bounced off short term support and looks to be on its way up once again.
New Home Sales
By David Urani
New home sales for March came in at 417k annually adjusted, which was up slightly from 411k in February and just below the 419k consensus. The headline result was a little underwhelming, and essentially as expected. Nevertheless, housing stocks are having a good day which actually began before the new home sales release on a broad upgrade of the industry by Barclays. Regionally, the results were mixed with the Northeast and South significantly higher and the Midwest and West lower.
Where you can really start to understand why the Street is taking the results positively is when you look at the unadjusted numbers. Non-adjusted sales for the month came in at 40k, which is a 21% increase from 33k month to month. March is typically when the spring selling season starts really getting into gear; it's not necessarily surprising that this happened, but I find that at times it can be important to note that even though the adjusted headline number was flattish, traffic is in fact flooding into the market.
Again, it's typical to get a big boost in March but where this may become a significant issue in 2013 in particular is on the supply side. You see, in March the months' supply of homes sank all the way to 3.8 from 4.6. It hasn't been that low since 2005. That becomes an issue because there are already widely reported shortages of homes in a number of markets. Likewise, there's going to be a need for homebuilders to stay active as they try to keep up with the influx of spring and summer demand.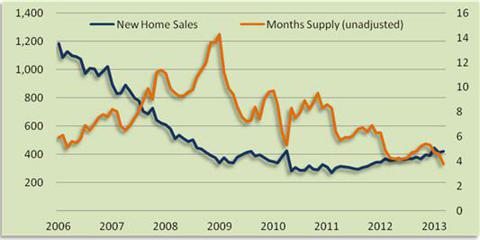 In fact, if subsequent new home sales reports come up on the light side, we may need to consider that sales could be being held back by lack of available supply.
False Twitter Alarm
Here's something you don't see every day. Today right at 1:08 pm the Associated Press sent out a tweet reporting an explosion at the White House. Don't worry, it was fake, apparently someone hacked their account. Nevertheless, it creamed the market for a couple of minutes, with the Dow diving as much as 150 points before jumping back. All is well, although surely there were plenty of traders who had their stop losses broken by that little prank. Whoops.