It is simply remarkable how equity markets are continuing to climb to record highs with very few breaks in between. Just last week there were three sessions in which the Dow Jones Industrial Average ended the trading session at record closing levels, and today the Dow appears to be attempting to make small gains that can take it to yet another record high closing price. What is remarkable is that despite the lack of any macroeconomic drivers today, investors appear to be increasingly more allured into stocks. Clearly, the sentiment out there is very positive and is serving to lift markets today, although not by much.
Today there are no economic drivers being presented, and tomorrow will be no different either. However, Richard Fisher, president of the Federal Reserve Bank of Dallas, today reiterated his stance that the Federal Reserve should dial back its monthly bond-buying program because it's no longer effective in stimulating the economy. According to Fisher, the Fed has made rich people richer, but the question is what it has done for the working men and women of America.
Later on today Charles Evans, Chicago Fed president, will discuss monetary policy and the economic outlook. However, more importantly on Wednesday, Fed Chairman Ben Bernanke will be testifying before Congress about the economic outlook, and the FOMC will release minutes from its most recent policy meeting.
At the moment the Dow is slightly up, over 15 points, which is not a whole lot, but given the market's amazing uptrend during the last couple of weeks, it is remarkable that the upward momentum is still maintaining its overall magnitude.
Wild Trade in Gold and Silver
By David Urani
The action in the precious metals markets today is anything but normal. In fact, the abnormal activity really began last month with April's mysterious plunge in gold from approximately $1,550 an ounce to $1,350 in just a couple of days. Today's action started earlier this morning, particularly with silver futures which sank as much as 9%, having been halted four times on the way down. There's been no concrete explanation for why, although there's a suggestion that another spike-up in the yen may have contributed, causing traders to cover for currency losses. Whatever the case, that sell-off has now been reversed big-time with silver now suddenly up 2% on the day, an intraday recovery of approximately 11%. Meanwhile gold has also run higher, including a $20 spike in just a couple of minutes right at noon.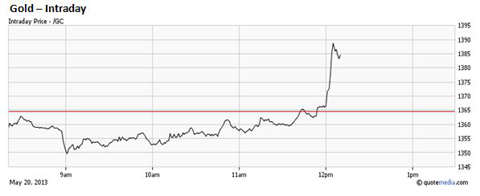 And as far as today's sudden bounce goes perhaps a technical stand at support, the April low for gold at $1,360, triggered some buying and/or short covering. Yet just this morning, especially for silver, it seemed the metals would plummet through those multiyear lows before traders had a major change of heart.