By Carlos Guillen
Equity markets are making a rather surprising move to the upside today as better than expected economic data from housing and consumer confidence have enthused investors back into buying stocks. While there have been some jitters as many on the Street continue calling for a correction, investors today saw good economic data points and have reacted accordingly, leaving the Dow Jones Industrial Average on track for another record closing level
Perhaps most encouraging today was data from the Conference Board, as it showed that consumer confidence jumped much better than expected. According to the Conference Board, its consumer confidence index spiked to 76.2 in May from 69.0 in the prior month, landing well above the Street's consensus estimate of 72.5 and reaching a five-year high. The result served to corroborate the data published by the University of Michigan 11 days ago, which also showed a rather encouraging surprise, as the University of Michigan Consumer Sentiment May preliminary result landed at 83.7, which was higher than the Street's expectation of 78.5.
It is apparent that the main reason for the rather sharp rise in confidence was that Consumers' assessment of current business and labor-market conditions has gain momentum, and they were considerably more upbeat about future economic and job prospects. The two months of gains appear to indicate that consumer confidence is gaining traction and that the malaise caused by the fiscal cliff, payroll-tax hike, and sequester is now well in the past.
Even more encouraging was that consumers' short term outlook also spiked in May, taking the Expectations Index up to 82.4 from 74.3. Consumers were considerably more optimistic about the short-term outlook. Those expecting business conditions to improve over the next six months increased to 19.2 percent from 17.2 percent, while those expecting business conditions to worsen decreased to 12.1 percent from 14.8 percent. Consumers' outlook for the labor market was also more upbeat. Those expecting more jobs in the months ahead improved to 16.8 percent from 14.3 percent, while those expecting fewer jobs decreased to 19.7 percent from 21.8 percent. On the other hand, the proportion of consumers expecting their incomes to increase dipped slightly to 16.6 percent from 16.8 percent, while those expecting a decrease edged down to 15.3 percent from 15.9 percent.
On the housing front, home prices rose in the 12 months through March by the most in seven years as the recovery in residential real estate gained momentum. Home prices have been showing small but continuous gains and may keep climbing as cheaper borrowing costs and gains in confidence attract buyers while the number of houses on the market remains near the lowest level in a decade. Moreover, rising prices are shoring up household finances, which could in turn give a lift to sales at retailers, great for economic growth: more on this below.
In all, it is a great day for equity markets, and today's trading session is certainly bringing a sigh of relief after last week's wild gyrations in the Dow. The rest of this week promises to be quite eventful as a slew of economic data is scheduled for release including Pending homes, Chicago PMI, and Michigan Sentiment.
Home Prices Steadily Upward
By David Urani
The Case-Shiller home price index is out for March, and we got another gain at a rate of 1.1% from February. That was just above the 1.0% consensus estimate; in the meantime, prices are up 10.9% year over year. There were no big surprises here, as it was a continuation of the broad, steady increase in prices over the past several months. In fact, it was the 12th monthly increase in a row.
For the month, all 20 major cities in the report showed increased prices. Notably, it's those areas that had previously bubbled up the most and subsequently crashed the most during the housing downturn that are recovering the fastest. Las Vegas was the biggest gainer, up 3.2% for the month, while there were strong showings in California and Florida as well. And then there was New York, which finally turned the corner and posted a year over year increase, the last city to do so.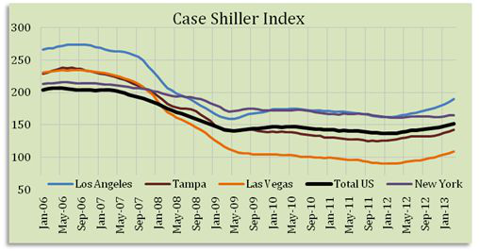 In a way, we are a little cautious of prices getting ahead of themselves, particularly in California. However, prices still remain well below the peak bubble levels. There is plenty of room for more appreciation, as national prices are still 30% off the peak; but the question is where the "true" price of homes should have been during the bubble. I suspect we could gain another 10% without much of a fuss, but beyond that perhaps we need to start to question the fundamentals, and what a home in America should really cost.
But for now the key fundamentals like rising sales and light supply remain favorable for further gains in prices.