By Carlos Guillen
Equity markets are making a rather soft move to the downside as worse than expected consumer prices and in-line industrial production results have not served to motivate investors so far into the trading session.
Perhaps a bit surprising today was that the price of goods, from a consumer perspective, climbed at a faster pace than expected. According to the Department of Labor, the Consumer Price Index (CPI-U) in June increased month-over-month by 0.5 percent; this compares with the Street's consensus estimate calling for a 0.3 percent rise. While the most recent Producers Price Index (PPI), which gives a feel for the price changes of goods from a producers' perspective, was giving signs of increasing prices for consumers, these increases were expected to be passed on to the consumer in a couple of months; however, price increases for the consumer appear to be ramping higher much sooner than expected. Excluding food and energy contributions to the price index, core CPI increased month-over-month by 0.2 percent, matching economists' average forecast. These recent increases in prices are likely to begin raising some concerns at the Fed, taking away some of the inclination to remain "accommodative" as Ben Bernanke mentioned mid last week.


On a perhaps more positive note today, another bit economic data showed that industrial production rose in June by the most in four months, signaling U.S. manufacturing is improving heading into the second half of the year. According to the U.S. Federal Reserve, industrial production during June increased month-over-month by 0.3 percent, in line with the Street's consensus estimate. In the same time range, capacity utilization increased from 77.7 percent to 77.8 percent, landing higher than the Street's consensus estimate of 77.7 percent. While it was feared that the slowing growth in China and the recession in Europe would have a significant negative effect here at home, it appears that the impact is not that severe, thank goodness!

Perhaps serving to attenuate stock declines a bit today was that the National Association of Home Builders' housing market index for July rose to 57 from 52 in June (more on this below). However, stocks are showing very little indications of making a bounce today. Meanwhile, it is apparent that earnings season is unraveling to be a bit better than many expected; however, investors will be looking ahead to Federal Reserve Chairman Ben Bernanke's testimony on monetary policy to Congress on Wednesday. This could make or break stock markets tomorrow.
Homebuilders Increasingly Optimistic
David Urani
Today we got the July NAHB/Wells Fargo Housing Market Index, the monthly measure of homebuilder confidence. In a nutshell, the numbers were impressive, with the headline result posting a reading of 57, up significantly from the 51 posted in June; that's also well above the 52 consensus. Not only that but it's the best reading since January 2006, which in a way is almost alarming given that 2006 was a bubble year. Nevertheless, it's a glowing endorsement of the housing market from the builders themselves.
All regions showed improvements, along with strong gains in traffic, present conditions, and expected sales in the next six months. Inventories reportedly remain tight, while high input costs (notably lumber) have subsided. That said, there was some caution with respect to potential removal of the mortgage interest deduction as well as Federal Reserve policy on mortgage purchases and interest rates.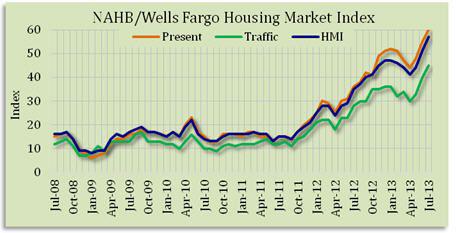 Home building stocks initially looked strong on the report but have trailed off with the broad market since.