By Carlos Guillen
The equity market volatility that we saw yesterday is continuing into today's trading session as investors wait to see what clues the Fed will have tomorrow with respect to the longevity of its loose monetary policy. Today there were some mixed economic results, with Case-Shiller index increasing significantly but with consumer confidence falling below expectations.
Quite discouraging today, and certainly not helping keep markets up today, was data from the Conference Board that showed that consumer confidence, which had improved in June, pulled back slightly in July. According to the Conference Board, its consumer confidence index decreased to 80.3 in July from the 82.1 reached in the prior month, landing below the Street's consensus estimate of 81.6. According to the Board, Consumer Confidence fell slightly in July, precipitated by a weakening in consumers' economic and job expectations. Despite the retreat in the index, confidence still remained well above the year-ago level, and consumers' assessment of current conditions strengthened, while expectations remained in expansionary territory. In sum, indications are still that the economy is strengthening and may even gain some momentum in the months ahead.
Home pricing data was a bright spot today as the Case-Shiller 20-City home price index for May rose 12.2 percent, higher than the Street's consensus of 10.5 percent; more on this below.
In all, the main focus still remains on Wednesday's Federal Reserve policy-setting committee statement, which is expected to convey the current accommodative monetary policy in place, and the first reading of second-quarter gross domestic product, which is expected to show growth of just 0.9%. Of course, investors are also looking to Friday's closely watched July employment report, in which the unemployment rate is expected to decline slightly to 7.5 percent from the 7.6 percent posted in for June, with a nonfarm employment increase of 175,000.
Case Shiller Index
By David Urani
The May Case Shiller home price index showed a 2.4% non-adjusted increase month to month, above the 2.0% consensus estimate, and up 12.2% year over year. On an adjusted basis, prices were up 1.0% month to month, slightly below the 1.3% consensus. It was another overall strong showing for prices, with 18 of the 20 cities rising. Minneapolis and Cleveland were the two cities to soften, and that broke a streak of all cities improving each month this year. Prices are now at the highest point since October 2008, while still being 24% below the 2006 peak.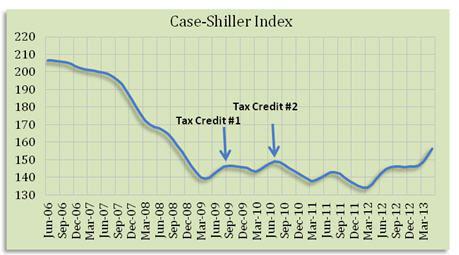 Certainly people know now that prices are rising, and are well above the very low levels they were at last year. That combined with some increases in mortgage rates, also from very low levels, has made housing notably less affordable than before. That being said, rents remain at record high levels and overall home ownership in America continues to slip. From a historical standpoint homes could still certainly be called affordable.
Yet, the home ownership rate is reportedly at 65%, an 18-year low. And taking a look at the younger crowd, those under 35 are reporting a rate of 37% versus 42% five years ago. In a way, this may be a generation that has soured entirely to the idea of owning a home, having witnessed what happened five years ago. What discourages me as well is that these folks missed an opportunity of a lifetime over the past couple of years, and may yet still be missing a chance to buy a home at a good price to own for years and see appreciate in value.