By David Urani
So the orderly selling continues as the market is once again lacking a big driver either way, with stocks trading on low volume. We did get one significant piece of economic data today in the form of the Census' June retail sales. The headline result was a 0.2% month to month increase (versus the 0.3% consensus), while sales were up 0.5% excluding autos (versus the 0.4% consensus).
So it's a fairly unevenftul report, and not far off from expectations. That said, the auto market has been a pretty good economic driver year to date, and it took a bit of a breather in June, but it's still overall at a good level (and also was expected by the consensus). Maybe the more concerning aspect comes from the housing market, with furniture down 1.4% and building materials & garden equipment down 0.4%.
On the positive side, food & beverage stores were up 0.8% and apparel was up 0.9%. Gasoline also had an impact, up 0.9%.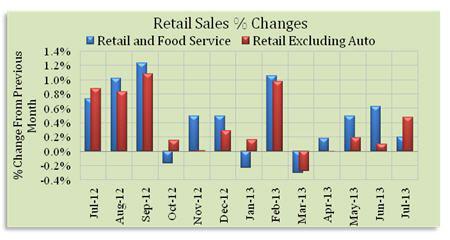 Otherwise the market is showing some hallmarks of another Fed taper trade. The dollar has popped higher, by 0.6% against a basket of international currencies. Likewise, treasuries are down, with the 30-year T-bond off 1.1%. Consequentially, lower treasury prices means higher interest rates and that's also translating into some more cautiousness on housing stocks (see also home-related retail above), with the Dow Jones US Home Construction Index (DJXB), a listing of housing-related stocks, down 2.2%.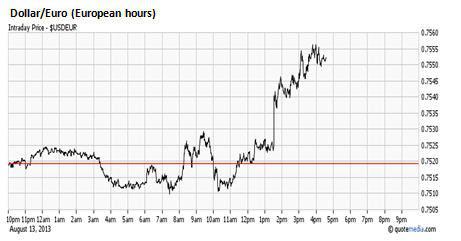 Yet, markets are coming off the lows. I made light last week (Link) of the four days in a row through Friday showing selloffs shortly after the opening bell, followed by 11:00 bounces. It's looking like the same pattern today. But these 11:00 bounces so far have mostly been head fakes, as overall the market remains in a lazy, modest downtrend.