By David Urani
Once again the market lacks that big news driver to move stocks, although they are somewhat moving themselves in a downward direction. That being said, there's was nice piece of economic data out this morning that confirms a growing feeling amongst market-watchers that Europe is getting back on track.
That's right, according to Eurostat, the EU's official data office, GDP finally broke its six-quarter losing streak. Eurozone growth in 2Q was 0.3%, signaling the technical end to its lengthy recession.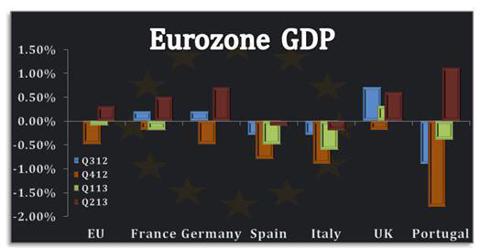 The big economies of Germany, the UK and France showed nice leadership, growing at 0.7%, 0.6%, and 0.5%, respectively. That said, Italy and Spain continue to struggle at -0.2% and -0.1%, respectively; but that is an improvement from the -0.5% and -0.6% rates posted for those countries in 1Q and gets them closer to turning positive. Portugal, the P in the ill-fated PIIGS group, showed a nice turnaround at +1.1%, up from -0.4%.
In other news, the Producer Price Index (PPI) for July is out, and pretty uneventful at 0.0% month to month. Meanwhile, 'core' prices which exclude food and energy were up 0.1%. That was below the consensus calling for 0.3% for the headline and 0.2% for core. It's a good sign inflation is in check, and actually it could have been seen as a sign the Fed has room to continue with its loose money. After all, Ben Bernanke himself noted recently that inflation was actually running below the Fed's target. The Consumer Price Index comes out tomorrow.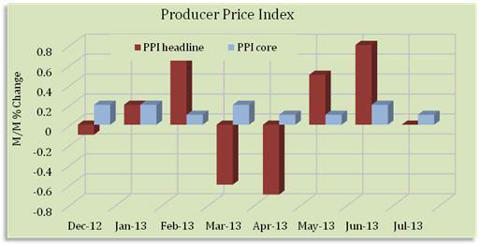 The market is down for now today, but don't be surprised to see a mid-day bounce as has been frequent over the past week.
Apple Gets Tweeted Higher
You could say it's now official, the Twitter revolution is in full swing. Over the past year or so Twitter has really caught on in the financial world and it makes perfect sense; it's the ultimate forum for breaking news quickly and nobody likes to get news straight from the horse's mouth as fast as possible like Wall Street. Big time names like Elon Musk (@elonmusk) have started to break big news through Twitter first, and likewise tweets can really move stocks these days. In April this year Bloomberg terminals, the widely used news hubs for traders, began integrating Twitter which only exacerbates their influence.
Well, yesterday we got one of the most high-profile Twitter news-breaks yet, the tweet below and the ensuing intraday market move are self explanatory: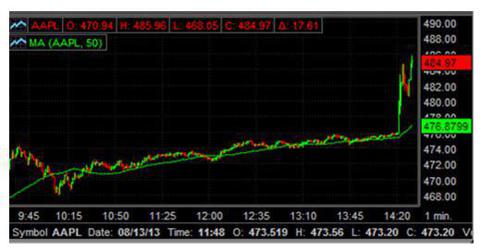 You know we've entered the age of social media when one of the largest companies in the world gains almost 4% ($17 billion in value) on a tweet. I would also give Mr. Icahn some credit for really being a savvy investor over the past year, he's made big money buying some highly hated names like Netflix (NASDAQ:NFLX) and Herbalife (NYSE:HLF) and Apple is another name that the Street has perhaps been overly critical of.
The finance world has gone far enough to call Twitter 'the new tape.' You can catch Charles (@cvpayne) and myself (@davidurani) while you're at it.