By David Urani
After yesterday's slide, stocks seem to be taking a bit of a breather today. Perhaps there is a bit of support coming from this morning's housing starts data for July, which adds to that strong homebuilder confidence index that we saw yesterday.
According to the Census, starts were up 5.9% month to month at 896k, just under the 900k consensus. Meanwhile, permits for new construction were up 2.7% to 943k versus the 935k consensus. Of course, the sentiment on the Street, if one were to look at housing stocks over the past couple of months, is that the sky is falling, but once again the data shows that so far that is not the case.
That's not to say everything is hunky dory with the report, actually for me it wasn't as strong as it seems on the surface. Overall starts and permits were lifted by multifamily construction (which is typically volatile month to month). Otherwise, single-family starts were down 2.2% and single-family permits were down 1.9%.
Still though, it's not a result that I would take all that negatively considering the single-family declines were modest. In the meantime, starts are still up 21% year over year and permits are up 12%. Likewise, the overall supply of homes on the market remains low enough that construction is still needed to keep up with demand for homes. And speaking of home demand, as of the last new home sales report for June, sales had been up 8% month to month to a new high for the cycle. We'll see the July results next week, and while I'm not really expecting a great result, all the fear in homebuilder equities seems overblown.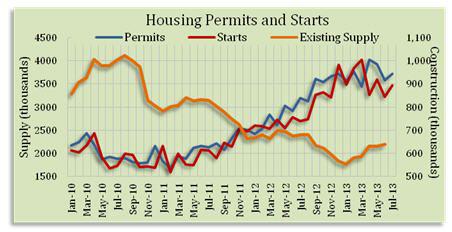 Okay, so housing wasn't bad and builders' stocks are up today. However, we also got the latest University of Michigan Consumer Sentiment Index, and it was a stinker. After hitting a 6-year high in July at 85.1, the index plummeted to 80.0 for August and landed a mile below the 85.5 consensus. This is the lowest point since April.
It's actually a little bit of a head-scratcher because there isn't any big factor(s) to point out as to why consumers might be feeling so much worse. The labor market and economy have held up, and gas prices have trailed off. Perhaps, the nervousness is coming from Federal Reserve fears. That being said, one doesn't get a sense that the average person is watching what the Fed does, nor would you think they would attribute any economic growth recently to the Fed. I'll be interested to see if the Conference Board's measure of consumer sentiment that comes out later this month matches up with the University of Michigan.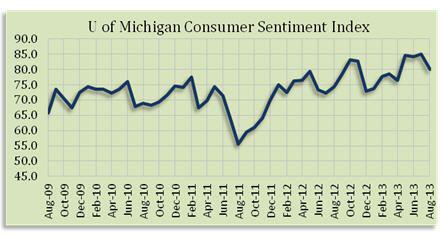 So, we got a couple of mixed pieces of economic data and the market is holding flat. Technically, it looks like the S&P 500 tested its 50-day moving average at 1657: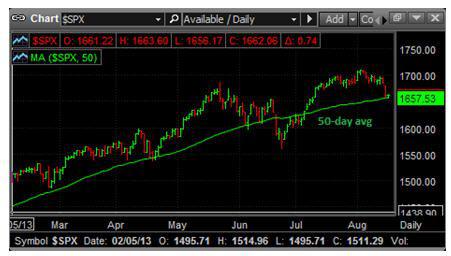 Looking at it intraday, we saw a drop at the open and a swift bounce right at 1657: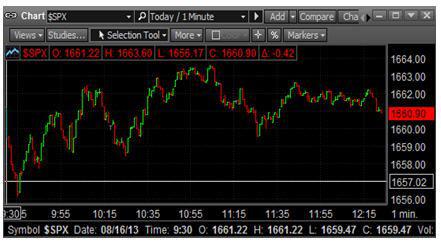 It would be great if we could hold, although we wouldn't rule out another test before the day is done, particularly in the last hour.
https://www.wstreet.com/user/register.asp?source=3
---