Please Watch Tonight "Making Your Market" Fox Business 6 p.m.
By Carlos Guillen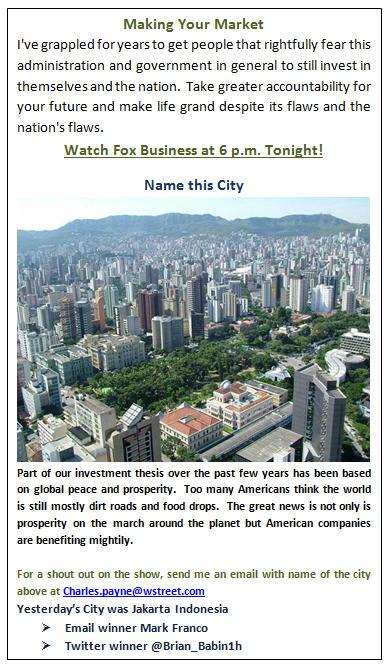 Equity markets are attempting to recover some lost ground after two days of trading in losing territory. While the focus still remains on the escalating situation in Syria, rather discouraging data from the housing sector out today is putting some added pressure on what could have been a much stronger bounce in stock prices.
While there was very little in terms of economic data out today, we did get another glimpse into the housing sector. Perhaps preventing the Dow from making a strong bounce of support today, the National Association of Realtors delivered its Pending Home Sales Index, which showed that the number of prospective homeowners signing contracts to buy previously owned properties declined month-over-month to a worse than expected level. While the housing data has been rather mixed recently, there is rising concern that rapidly increasing mortgage rates are now taking the momentum out of the housing recovery, and if we add higher home prices and low supplies to the mix the housing backdrop may worsen. As we all know, this could have a negative effect on economic growth in the U.S., which has relied substantially on the housing recovery; more on this below.
Also putting pressure on stock prices today are the continuing worries over U.S. military intervention in Syria. Yesterday U.S. officials said there was "little doubt" that forces loyal to Syrian President Bashar al-Assad were responsible for the use of chemical weapons. And today, a senior administration official said Aleppo, Syria's largest city and an opposition stronghold, would likely be the next target of a chemical attack. White House officials reportedly are consulting with NATO allies and Arab nations in planning a strike against Syria.
In all, despite the fear of a potential military intervention and the worse than expected pending homes data, stocks are still making a move to the upside with the Dow now up close to 70 points. The rest of the week promises more economic drivers with GDP out tomorrow and Michigan Sentiment out Friday to mention a few.
Pending Home Sales
By David Urani
The July Pending Home Sales Index (measures uncompleted contracts for existing home sales) from the NAR posted a reading of 109.5, which was a 1.3% drop from the June level of 110.9. That was largely in line with the -1.0% consensus estimate. Considering the big plunge in new home sales last week one could have expected pending homes to be worse than they were. On a year over year basis, sales were still up 6.7%.
Nevertheless, as the NAR points out, higher home prices combined with mortgage rates are making homes less affordable than they were just a few months ago and that's affecting demand. Regionally, the Northeast, Midwest and West were down while the South was up.
In the end a 1.3% drop is hardly a crisis, and when you consider that it's a broad, seasonally adjusted survey such a small increment could almost be negligible. That said, the modest drop follows a 0.4% decline in June (from a multi-year high in May) and as we noted above it comes after a poor new home sales result. This is not a report to fret over yet but I do also hope it's not the start of a trend.