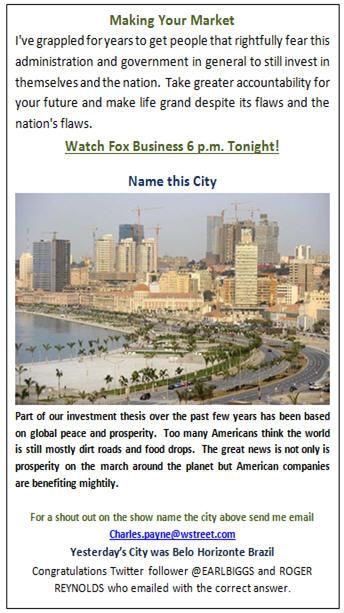 Please Watch Tonight "Making Your Market" Fox Business 6 p.m.
By Carlos Guillen
Quite encouragingly, stocks are making a second consecutive day of gains as reflected by the Dow Jones Industrial Average, which is up over 60 points so far into today's trading session. While news from Syria is still the center of attention, investors are breathing a sigh of relief after President Barack Obama said yesterday that he has not yet made a decision to take military actions against Syria. Adding the momentary sigh of relief to the better-than-expected economic data out today is certainly helping to remove some of the pressure that had been building on equity prices earlier this week.
For starters, it was encouraging to see data that showed the number of people filing for unemployment benefits ticked lower, giving hopes that the unemployment rate may improve when it is released next week. According to the Department of Labor, initial claims during the week ended August 24 totaled 331,000, decreasing from the 337,000 revised figure reported for the prior week and landing slightly above the Street's estimate of 330,000. The result is on its seventh week of remaining below the 350,000 level that economists say is consistent with moderate labor market growth of about 150,000 net new jobs a month. The initial claims' four-week moving average was 331,250, increasing a bit from the prior week's average of 330,500. It should be noted that ironically if the jobs backdrop shows signs of improving momentum it will certainly give the Fed the green light it needs to commence its tapering procedure sooner rather than later as investors fear.

Clearly, the most encouraging economic data presented today was that U.S. output improved better than expected in the June quarter. According to the Bureau of Economic Analysis, real gross domestic product (GDP) during the second quarter of 2013 increased quarter-over-quarter by 2.5 percent (annualized), better than the Street's consensus estimate calling for a 2.2 percent quarter-over-quarter rise, much stronger than the 1.1 percent achieved in the first quarter of this year and higher than the first estimate of 1.7 percent presented a month ago. However, a third consecutive drop in government spending served to attenuate overall GDP growth. The better than expected revision to GDP growth in the June quarter was mainly the result of a much better than expected contribution from net exports.
On the inflation side, prices for GDP increased by 0.8 percent (annualized), while economists' average forecast called for a 0.7 percent rise. The higher than expected rise in prices may also serve to motivate the Fed to start tapering when the FOMC meets this September, and this may not be great news for short term traders.

In all, although it may be short lived, investors are feeling more relaxed as the probability of military action in Syria has diminished and as the economic backdrop looks a bit more encouraging. As such, the Dow is continuing to hold to most of gains made so far this session, but like we said this may be ephemeral.
Jobless Claims Signal Strength
By David Urani
Jobless claims for last week were down again, to 331k from 337k and that continues a very nice trend for August so far. The four week moving average now stands at 332k, and that's down from 351k at the beginning of last month. For me, initial jobless claims have a very good correlation to a lot of different economic indicators. Claims also tend to foreshadow other economic developments considering that they are very up to date, coming out every week.
Of course, next week we get the official jobs data for August and the trend is looking good. Claims tend to hold a steady correlation with the unemployment rate. The latest leg down in jobless applications may be signaling good news to come.
It's also a sign that, despite some turbulence in the markets this week, the conditions on the ground may actually be relatively unaffected. After all, right now a lot of the pessimism right now stems from the Federal Reserve, upcoming debt ceiling debates, and potential for a Syria conflict. These are issues that spook stocks but don't necessarily do anything to the job market. Likewise, these aren't issues that should really be denting corporate profits, either.