By Carlos Guillen
After a slight drop yesterday, the Dow Jones Industrial Average is making its fourth encouraging move to the upside this week as investors continued to see retail sales growth and low inflation.
A bit encouraging today, and perhaps influenced by the slight improvements in the jobs market, was that retail sales data showed that the consumer is still holding strong. According to the U.S. Census Bureau, retail sales during August increased year-over-year by 4.7 percent and increased month-over-month by 0.2 percent, a bit worse than the Street's consensus estimate calling for a 0.4 percent month-over-month rise, but still representing the fifth consecutive month of growth. Excluding automobile related revenues, retail sales increased year-over-year by 3.3 percent and increased month-over-month by 0.1 percent, also under the Street's consensus estimate calling for a 0.3 percent month-over-month rise, but still the fifth month of growth. Of the thirteen categories that make up the result, ten climbed, led by a 1.0 percent increase in store retailers and a 0.9 percent rise in Motor vehicle & parts dealers. Given the importance of consumer spending, as it represents 70 percent of gross domestic product (GPD), a continuing rise in retail sales may help to assuage the belief that GDP growth in the third quarter may not come in as strong as many expect.

Another report today showed prices paid to producers climbed after remaining stagnant in the prior month. According to the Department of Labor, the Producers Price Index (PPI) in August increased month-over-month by 0.3 percent; this compares with the Street's consensus estimate calling for a 0.2 percent rise. Excluding food and energy contributions to the price index, core PPI remained unchanged month-over-month, while economists' average forecast called for a 0.1 percent rise. While demand for commodities here at home is a bit choppy, the global economy appears to be making some encouraging gains. Costs for producers may continue to increase as there is mounting evidence of rising demand world-wide, which we believe will help shift the focus from Fed tapering to real overall economic growth, which should bode well for stocks in the short term.

Over all, stocks are continuing to hold on to earlier gains on very little positive economic data, perhaps it is just a lucky Friday the 13th; however, the Fed will meet on Tuesday and Wednesday of next week to discuss the state of the U.S. economy and the fate of the central bank's $85-billion-a-month asset purchasing program, and perhaps this may change the Street's fortunes.
It Ain't so Bad to be Ugly
By David Urani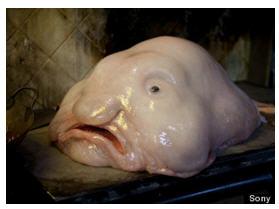 It's official, as announced yesterday the ugliest animal on Earth has been crowned, and it is the blobfish. The Ugly Animal preservation Society had a strong list of candidates to choose from including the dung beetle and the proboscis monkey but you really can't argue against their choice of the blobfish which is just hideous.
But hidden in all that ugliness there is some good. You see, that gelatinous mass of an exterior actually serves a purpose. Without it, the fish would be crushed by the high pressures of the deep sea in which it resides. It also has a second purpose in being less dense than water, which means it keeps the blobfish buoyant without having to exert much energy.
What's my point? Well, sometimes something can be so ugly that it's good and I think that may be what we're seeing in the markets today as a batch of poor economic data is being shrugged off for another solid up day.
Blobfish itself would cringe if it saw today's Michigan sentiment index which posted the biggest miss versus consensus ever. The 76.8 mid-July reading was a far cry from the 82.0 expectation, and a substantial drop from the 82.1 posted for August. It was also the second decline in the index in a row and the lowest reading since April. It's possible the Syria conflict had something to do with this, but we've also noted some softness in various retailers of late.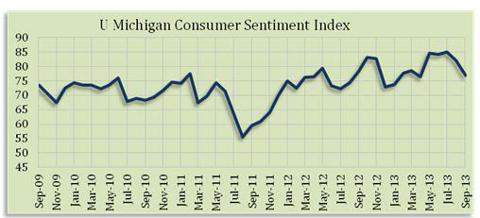 And on that note, retail sales were the second ugly data point today. August sales showed a 0.2% increase, which was well below the 0.5% consensus estimate. Excluding autos, sales were up just 0.1% versus the 0.3% consensus. Those retail sales continued to show the booming auto market, as related sales were up 0.9%, but on the negative side there was a 0.9% drop in building materials, a 0.8% drop in clothing, and a 0.5% drop in sporting goods/hobby stores.
Why is all this ugliness good? Well of course, we have the all-important Federal Reserve meeting next week and going into it the consensus seems to be that the dreaded taper is very possible. If there's anything that's going to hold back the taper it's ugly data like today's. We were also given the producer price index today, a measure of inflation, and excluding food and energy it was flat month to month. Ben Bernanke has been saying that inflation is low, in fact bordering on too low, which gives more incentive for the Fed to keep on printing.
Whatever the case, over past couple of weeks the market has grown a nice gooey, blubbery layer that's keeping it decisively buoyant and you wonder if even a Fed taper would derail it.