By Carlos Guillen
Stocks are looking for direction so far into the trading session as rather mixed economic data from durable goods and new home sales are not quite convincing investors the economy will see much improvement in the short term.
The first main bit of economic data out today was durable goods orders, and the result was somewhat discouraging. According to the U.S. Census Bureau, new orders for manufactured durable goods during August increased month-over-month by 0.1 percent to $224.9 billion, worse than the Street's consensus estimate calling for a 0.5 percent month-over-month rise. On a lighter note, at least there was growth after a sharp 8.1 percent decline in July. Concurrently, non-defense capital goods, excluding aircraft, rose by 1.5 percent, after decreasing by 3.3 percent in the prior month. These capital goods orders are considered a proxy for future business investment in items such as computers, engines and communications gear, so this tepid increase may be indicative of slower than expected economic growth during this second half of the year. It is apparent that concerns over the Fed tapering, which means higher borrowing costs for capital spending, is causing a companies to slow on growth investments.

The second bit of economic data came from new home sales, which continued to show an improving housing sector. According to the U.S. Census Bureau, new home sales during August rebounded more than originally forecasted, rising 7.9 percent month-over-month, while economists expected a 6.6 percent rise. Clearly the low borrowing costs have fueled sales of new homes; however, the increasing risk of already ramping mortgage rates will certainly slow home sales in the short term. As it stands, the Fed has refrained from reducing its $85 billion-a-month bond purchases, but most do expect this to change within the next month, which can certainly serve to dissuade would be home buyer; more on this below.
At the moment stocks are trying to find direction but still appear to be oscillating between gains and losses, with the Dow Jones Industrial Average currently down 10 points.
New Home Sales in a Bumpy Patch
By David Urani
Yesterday gave us some insightful homebuilder earnings from Lennar LEN and KB Home KBH that did show some deceleration in new orders but overall could be taken positively as they didn't show complete derailment of housing demand (which many fear).
Today we follow up with the Census new home sales report for August. It shows a 421k annual rate of sales, a 7.9% month to month increase and a 12.6% increase year over year. That was a touch below the 425k consensus estimate. As a reminder, the July reading had shown a volatile 14.1% month to month drop so it was reasonable to expect some rebound from that unusually large decline. However, we still remain the 454k June result; January was the high point of the current cycle at 458k.
Regionally, the Northeast, Midwest and South gained while the West surprisingly dropped to the lowest level since March of last year. Meanwhile inventory was up 3.6% for the month to 175k, but due to the higher sales months' supply fell from 5.2 to 5.0.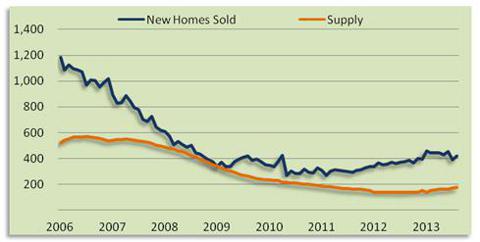 While it wasn't quite the rebound the Street was expecting it was close enough and housing stocks are seeing a little bit more relief today as many will have been braced for a worse result. That said, there was quite a bit of volatility in the data of the last two months; we'd like to see a couple more months to draw a trend of just exactly how much of a deceleration home demand is in.