Charles Payne Will be Hosting Cavuto on Fox Business Network at 8 p.m. EST
By Carlos Guillen
Equity markets have been zigzagging mostly in losing territory as leaders in Washington continue to give indications of reaching an agreement but still deliver nothing and as the only drops of government economic data land below expectations.
A survey of manufacturing activity in the New York region missed expectations, also helping to put pressure on stock prices. According to the Federal Reserve Bank of New York, its general business conditions index October result landed at 1.5, decreasing from the 6.3 reached in September and representing the third sequential decline. Also discouraging was that the employees' index slipped to 3.6 from 7.5. On the positive side, however, the index still indicated expansion but at a slower rate, and it was also encouraging to see the new orders index climb to 7.8 from 2.4; however, the number of employees index slipped to 3.6 from 7.5; more on this below.
Helping to momentarily lift stocks was that House Republicans said they were working on a bill to reopen the federal government and avoid a potential U.S. default on its debt. However, there is still no solid agreement as the debt ceiling deadline approaches this Thursday. Yesterday, Senate leaders said they were close to a deal. Senate Majority Leader Harry Reid said he was very optimistic about concluding deals this week to raise the debt limit as well as end the government shutdown. And Senator Mitch McConnell, the minority leader, said he shared Reid's feeling that we will get a result that is acceptable to everyone. So the signs are positive but yet nothing. One thing to note is that even if a deal is reached, it will only delay the debates down the road; if we are lucky, it will be more than a month.
Over in Europe, German data was encouraging. The ZEW sentiment survey showed that the economic expectations indicator rose further above its long-term average in October, to 52.8 points from 49.6 points in September, beating economists' expectations for an unchanged reading.
At the moment, the Dow Jones Industrial Average looks to be bouncing off support, down over fifty points. Later this afternoon the President will be meeting with House and Senate leaders to try to reach a deal once again.
Empire State
By David Urani
The October Empire State manufacturing index was the economic data of the day and overall it wasn't very impressive. Manufacturing activity for the New York region posted an index reading of 1.5, just slightly in growth territory, and down from the 6.3 reading posted for September. It was also below the 7.0 consensus estimate. Looking into the components there were no big red flags, with new orders up from 2.4 to 7.8 while shipments were down from 16.4 to 13.1. Employment decelerated for a second month in a row, from 7.5 to 3.6.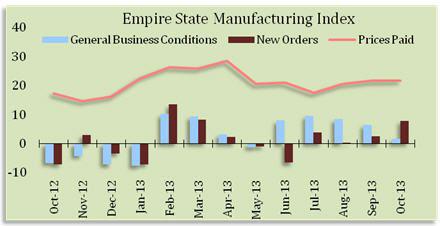 While not good, you could perhaps be relieved that it wasn't worse. Of course, the government has been in shutdown mode this whole month and being an October reading this index would technically reflect any effects so far of that. Perhaps we're seeing some sign of softening here but encouragingly no major impact yet.