Charles Payne Will be Hosting Cavuto on Fox Business Network at 8 p.m. EST
By Carlos Guillen
Investors have been invigorated during today's trading session, which in turn is lifting the Dow Jones Industrial Average significantly over 180 points, as all indications are that leaders in Washington will reach an agreement as early as today to avoid the debt ceiling deadline and reopen the federal government. This comes after the Dow lost 133 points yesterday on reports that negotiations between congressional leaders had gone nowhere.
As it stands, the U.S. government has been running in shutdown mode for 16 days as the leaders in Washington have played tug-of-war in coming to an agreement on the federal budget, the affordable care act, and the debt ceiling. And during these two weeks, it seems that every trading session has been dominated by hearsay from D.C., with days in which stocks were up on signs of a resolution, followed by days in which stocks were down as those resolutions signs fell apart.
So, the clock is ticking; the U.S. Treasury has said it will exhaust its emergency borrowing capability on October 17, and while this does not mean the U.S. will default on this date, it does mean that the Treasury will only have about $30 billion to pay the nation's bills, with cash flows that may be difficult to direct, significantly increasing the likelihood of default. Consequently, Fitch Ratings late yesterday put the U.S. sovereign credit rating under review for a downgrade, pointing to prolonged negotiations over the debt ceiling.
At the moment, Senate leaders in both parties are voting on an agreement to temporarily raise the nation's debt ceiling and fully reopen the government. Once this gets passed-which is expected to pass-the House will have to vote on it as well. This will happen around 3 p.m. today and is when the suspense will build, but nonetheless expectations are high that this time the House will end this debate for the time being. Let us hang tight for now.
Housing Still Shaky in October
By David Urani
The housing market continues to waffle amid mortgage rate volatility, and a couple of pieces of data today suggest October is still facing some challenges. The NAHB/Wells Fargo housing market index, a measure of homebuilder confidence, hit a reading of 55 for October, down from 57 for September and below the 58 consensus estimate. That being said, with the mortgage rate fluctuations and the fact the government has been shut down all month perhaps it's not necessarily a surprise to see a confidence index like this decline a bit. There are also reports of low availability of well-priced lots and labor holding back construction activity. Nevertheless, the index remains just off from the August eight-year high of 58.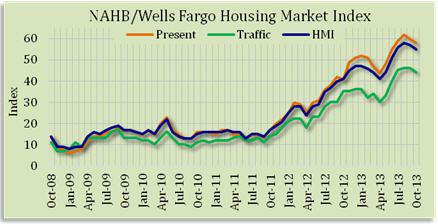 We also got the MBA's weekly reading on mortgage applications which showed a 5.0% drop in mortgage purchase applications. That makes for three weeks in a row of declines, and takes it to the lowest level of the year. That being said, once again the past couple of weeks reflects government shutdown and with respect to mortgage applications, those may be weighed down by the fact the FHA is not operating as normal at the moment. Add to that any skittishness in homebuyer confidence from the events in Washington and perhaps it makes sense activity would be down this week. That said, mortgage rates have stabilized somewhat, with the 30-year rate rising just 4 basis points this week to 4.46% and likewise refinance applications were able to increase by 3.0%.