By Carlos Guillen
Equity markets are giving up the gains achieved yesterday, which was mostly based on the belief of no tapering for quite some time. Today news flow from around the world combined with rather mixed earnings season results from the likes of Caterpillar (NYSE:CAT) and Boeing (NYSE:BA) are serving to put pressure on stocks as reflected by the Dow Jones Industrial Average, which is currently down over 70 points, virtually offsetting the 75 point gain from Tuesday's trading session.
Today's session is being affected by news from Asia that China's largest banks tripled the amount of bad loans written off in the first half of 2013. This ramped up the rumors of nonperforming loans from Chinese banks, as well as speculation of tightening actions from Chinese monetary policy leaders. This had Asian markets down significantly, with the Chinese Hang Seng down 1.36 percent and the Nikkei down 1.95 percent.
Over in Europe, equity markets also had a down session after The European Central Bank (ECB) said it would begin a thorough review of about 130 banks in November to see whether they are healthy enough to withstand another crisis. Moreover, it is said that the ECB will require that European banks set aside 8 percent of their risk-adjusted capital as buffers against losses. And in the U.K, the Bank of England released its minutes from its last policy meeting, and the notes suggested that the bank could raise interest rates at an earlier time than many thought, as the unemployment rate was declining faster than expected. The combination of news had major indexes in Europe down modestly, with the English FTSE 100 down 0.32 percent, the German DAX down 0.31 percent, and the French CAC 40 down 0.81 percent.
Here at home, two industrial heavy weights delivered rather mixed earnings results. Shares of Caterpillar are down over 6 percent after the construction equipment maker cut its full-year outlook and reported earnings and revenue that missed the Street estimates, citing weak demand for mining equipment. However, shares of Boeing are up over 4 percent after the airplane maker raised its full-year projection for profits and topped both earnings and revenue growth forecasts, amid strength in its commercial-aircraft business.
In all, investors are trying to decipher what it all means for equities for the remainder of this year, as earnings season continues to unfold, still bringing rather mixed results, and as the Fed's loose monetary policy remains intact.
Oil Slides Lower
By David Urani
The air feels nice up here just under the all-time S&P 500 highs. While earnings and QE have been taking much of the headlines, one of the feel-good stories of the past few days for me is also the decline in oil prices. Crude was almost $101 at the start of this week but now it's all the way down to $96.81. One anchor on prices this week was of course the tame job report yesterday, as 148k jobs is an increase but quite a meek one for the US economy and one could naturally expect another soft one for October given the government shutdown fiasco.
We also got a couple of weekly oil inventory reports from the EIA. On Monday there was a delayed report (because of government shutdown) from two weeks ago showing a 4 million barrel increase. Today we got the most current reading, and it showed a gain of 5.2 million barrels.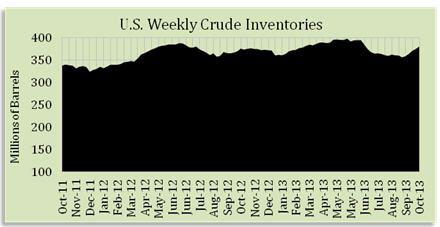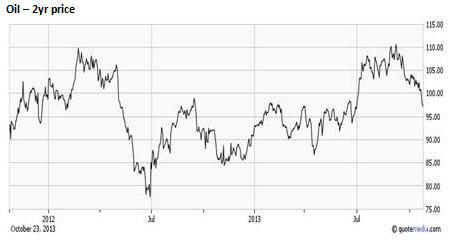 In fact, the drop in oil has been going on since mid-September when it hit as high at $110, exacerbated by the conflict in Syria. The slide has also translated somewhat over to gas prices, which are down from $3.50 a gallon national average in September to $3.31 as of the latest reading. Given the recent movement in oil those pump prices could sink a little further.