By Carlos Guillen
Stocks got off to a pretty negative start to today's trading session mainly as lower euro-zone growth forecasts reverberated on this side of the Atlantic. However, better than expected non-manufacturing data from here at home has helped to mitigate the earlier losses.
Perhaps serving to assist markets in a recovery from earlier lows this morning was better than expected non-manufacturing sector data. Moving in the same direction with data posted by the Institute for Supply Management (ISM) this past Friday that showed U.S. economic activity in the manufacturing sector (PMI) expanding at a slow but constant rate in October, which landed much higher than expected, ISM data posted today showed that economic activity in the non-manufacturing sector (NYSE:NMI) expanded at an increasing pace during the same time period, reversing its direction from the prior month. The Non-manufacturing ISM Index in October clocked in at 55.4 percent, increasing from the 54.4 percent reported for September and landing above the 54.0 percent consensus estimate. The result represented the 46th month that economic activity in the non-manufacturing sector grew. Also rather encouraging was that employment activity in the non-manufacturing sector increased from 52.7 to 56.2 percent, indicating growth in employment for the fifteenth consecutive month. And of the 18 available components of NMI, ten non-manufacturing industries reported growth, which was one less than in September.

The better than expected non-manufacturing data had some difficulty lifting stocks at the instant it was released as investors took some time to determine how this would affect the possibility of the Fed tapering sooner rather than later, but despite that hesitation equities have respond well to news and are actually in winning territory at this juncture, as reflected by the Dow Jones Industrial Average.
So the clear culprit of this morning's sharp fall in stocks was the European Commission, which reduced its forecast for the region's gross domestic product (GDP) growth and unemployment rate. As it stands, euro zone GDP growth is now seen at 1.1 percent in 2014, versus a prior expectation of 1.2 percent, and the region's unemployment rate is seen rising to 12.2 percent versus a previous forecast of 12.1 percent.
In a short while, Richmond Fed President Jeffrey Lacker and San Francisco Fed President John Williams will be speaking, and everyone will be attentive, waiting to hear any signs of tapering. This can shake markets later today and into tomorrow.
Oil Slides Lower
David Urani
Despite the market receiving some generally decent economic data of late including yesterday's global PMI reading increasing to 52.1 in October from 51.8, you get the sense that the market isn't convinced by economic growth. We're seeing a big reflection of that in oil prices which have been on a continual slide for the past two months, and are down another $1.06 today to below $94. Prices are at the lowest level since June, and have fallen approximately 15% since the September high above $110.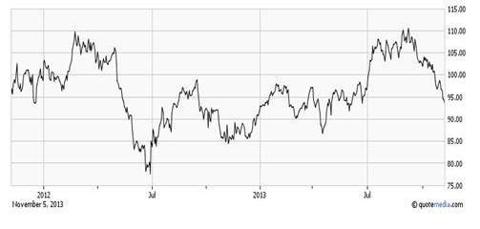 Some of that caution in the oil markets is based on some bearish readings lately from the EIA's weekly inventory reports. Just in October crude oil supplies increased by more than 13 million barrels, possibly an indication that the government shutdown and ensuing dent to consumer and business confidence had an effect on the economy. The next reading comes tomorrow and energy traders don't appear to be expecting much.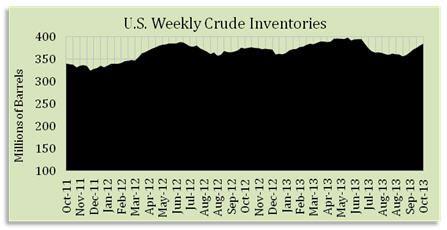 There's also been some dollar strength to exacerbate the slide in oil, with recent hints from the Fed suggesting the widely-feared QE 'taper' is still in play.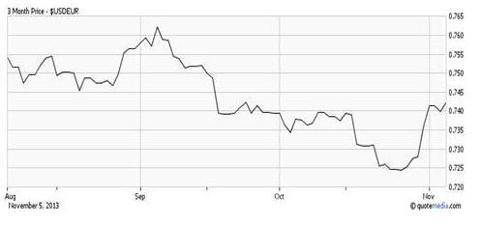 Of course lower oil prices are always a relief but in this case it could be somewhat of a warning sign being sent from the energy markets, that the economy is spinning its wheels.