By Carlos Guillen
Equity markets are making a very encouraging and rather surprising move to the upside as reflected by the Dow Jones Industrial Average, which is currently up over 100 points and is set to close at its highest level ever.
Today's trading session began with a boost from overseas, as better-than-expected data on euro-zone economic activity also enthused investors here at home in the belief that a rising tide raises all ships. Euro-area services output grew more than initially estimated in October as reflected by an index of purchasing managers in the services industry, which actually declined to 51.6 from 52.2 in September, but exceeded Markit's initial estimate of 50.9.
Also another quite encouraging bit of economic data out today was that the indexes of leading indicators improved and still appears to be maintaining a favorable short-term uptrend, signaling that still overall stronger housing and slowly improving jobs markets are helping the U.S. economy make more progress in the second half of 2013. According to the Conference Board, its Leading Economic Index LEI during September increased month-over-month by 0.7 percent to 97.1, better than the Street's consensus estimate calling for a 0.6 percent month-over-month rise. Also favorable was that of the ten components that make up the leading indicator, 7 were positive in September compared to 6 positive components in the prior month. The three top contributors were the interest rate spread, the average weekly initial claims for unemployment insurance, and the Leading Credit Index. The slow but still overall up-trending results are indicating that the recovery is still alive; however, this data does not include the effects of the most recent government shutdown, and most recently consumer demand has been rather weak as wage growth and confidence have worsened.
(click to enlarge)

Click to enlarge
So, as it stands, the Dow is holding steady, and unless something shakes markets later in the session we should see an all-time high closing level today.
Dow's Big Day
David Urani
So here we are finally, with the Dow at last playing catch-up with the S&P 500 to hit its all-time high today. It's been spurred on by earnings from Chevron CVX but even more so by Microsoft MSFT. With respect to Microsoft, who would've thought but it's now jumped back above $38, to its highest level since 2001. Personally it's almost hard to believe considering how behind the curve they've been with mobile and tablets. Nevertheless, the stock caught an upgrade while its search for a new CEO apparently is down to a select few including the Street-favorite Alan Mulally from Ford.
Indeed, the Dow is touching new intra-day high territory but has failed to break out and the rest of the session may be characterized by volatility as the bulls and bears play tug-of-war over that threshold. And perhaps this raises the stakes a little bit for Friday's job report. Certainly the employment report is a data point that can set the tone for the markets and with investors deciding on whether to break out the major indices to new highs it could become a deciding factor that either breaks the Dow through or sends it back down where it came from.
(click to enlarge)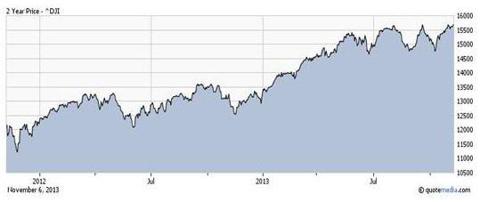 Click to enlarge