By Carlos Guillen
Quite encouragingly, stocks for the most part are trading in winning territory during today's trading session, with the Dow Jones Industrial Average once again making gains after closing above the 16,000 mark yesterday for the first time ever. Although the Dow did fall below this mark during the first ten minutes after the opening bell, it appears that investors saw this weakness as a chance to immediately buy on the dip, lifting the Dow above the mark once again.
Part of the enthusiasm yesterday, which allowed for the record closing price on the Dow, came from the Senate Banking Committee's approval of Janet Yellen's nomination as the new chief of the Federal Reserve. The consensus on the Street so far is that Yellen will keep the Fed's monetary policy intact for the foreseeable future, which means no tapering.
Also helping keep the Dow above the 16,000 mark today were favorable comments from Atlanta Federal Reserve President Dennis Lockhart, as he stated that the Federal Reserve will remain accommodative for years with a mix of tools, and it will not taper its bond-buying until the economy is ready and financial markets are prepared.
On a bit of economic data, taking a look at the Job Openings and Labor Turnover Summary, or JOLTS report, we can see that the level of jobs available during September ticked higher for a second month. The number of job openings in September was 3.91 million, up from 3.84 million in the prior month, representing a 1.80 percent increase. At the moment the number of job openings still remains well below the 4.26 million openings when the recession began in December 2007; however, the long term view is still favorable with the number of job openings increasing 64.6 percent since the end of the recession in June 2009.
(click to enlarge)

Click to enlarge
Left rather flat was the number of unemployed per jobs available, remaining at 2.9 for a second consecutive month. While there have been reductions on this metric, they have been small, showing very little indication of significant improvements in the short term. So while there are fewer layoffs, there is also less hiring going on, and for those that currently have jobs, they are still very unlikely to quit in search for something else.
(click to enlarge)

Click to enlarge
In all, today's market action is very impressive as the economic drivers have been lacking today, with a few comments from Dennis Lockhart and with JOLTS data that is more of a lagging indicator than anything else, yet after some oscillations, the Dow is continuing to hold above the 16,000 mark, perhaps demonstrating investors' willingness to get into stocks on any dips.
E-Retail Ramps Up
By David Urani
The Census Bureau gave out the Q3 numbers for US e-commerce sales today and while not a market mover it's always interesting to see where it stands. Total Q3 e-retail was $67 billion, which is a 17.5% increase from a year ago. Versus Q2 of this year, e-retail sales were up 3.6% versus 1.3% for all retail. As a percent of total retail sales, e-retail is now 5.9% of the total, up from 5.2% last year. It continues to be a rapidly growing trend, which is particularly impressive given that it's changing the whole landscape of retail in America; 0.7% of all US retail spending shifting from stores to the internet in one year is nothing to sneeze at. And where it does pose challenges to brick-and-mortar businesses (Radio Shack, JC Penney and Barnes & Noble come to mind), on the other end there's also a necessary build-up of warehousing, packaging and transportation that brings the goods to people's doors.
(click to enlarge)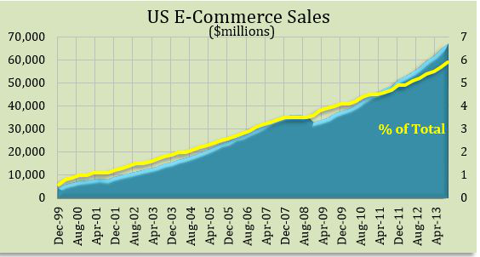 Click to enlarge