By Carlos Guillen
So far today, stocks are trading a bit lower, with the Dow Jones Industrial Average down just over 30 points, but trading has been rather unstable. Friday's jobs data was rather mixed, as the unemployment rate declined better than expected, but nonfarm jobs increments did not cut the mustard.
The latest jobs data certainly served to take away the enthusiasm that had been building this week with all the positive economic data points. According to the latest data from the Department of Labor, the unemployment rate declined in December to 6.7 percent from the 7.0 percent achieved in November, landing lower than the Street's consensus of 7.0 percent and representing the lowest level since October 2008 when the rate was 6.5 percent. However, while this drop in the unemployment rate would normally be considered to be encouraging, the manner in which it was achieved was certainly discouraging as many people simply dropped out of the work force. Also discouraging was that non-farm payroll employment increased by much less than expected.
(click to enlarge)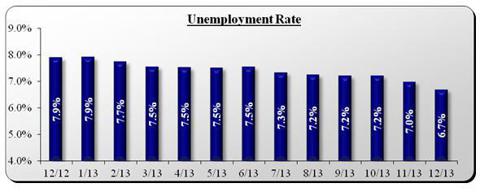 Click to enlarge
The household survey showed that while the population increased by 178,000, and 143,000 people found work, 525,000 individuals moved out of the work force. In essence, the unemployment rate result was not as favorable as it seemed; while it did decline 30 basis points, it was mostly assisted by the fact that a large number of people threw in the towel and removed themselves from the work force.
Clearly the most disappointing aspect of the jobs data was that non-farm payroll employment in December (derived from the establishment survey) increased by much less than expected. The report showed that the increase in non-farm payrolls was 74,000 while the Street's consensus called for a gain of 197,000. Moreover, the non-farm private payroll gains were 87,000, also landing below economists' forecast of 198,000. This result was also much lower than that presented by ADP this past Wednesday, which actually landed better than the Street estimates. According to ADP, non-farm private sector jobs increased during December by 238,000, higher than economists' average forecast calling for a 203,000 increase. On a bit of a positive note, we should note that during the last 12 months the average monthly gain in non-farm employment has been 182,000, well above the 112,000 we calculate is needed to keep the unemployment situation constant.
(click to enlarge)

Click to enlarge
In all, the December unemployment data appears to be confusing investors as the combination of all these mixed results does not give a clear indication of what to think the Fed will do in terms of tapering moving forward. This confusion is also being reflected in bond markets as yields are declining today, with the ten year treasury rate losing 8 basis points.