By Carlos Guillen
U.S. stocks have been meandering their way higher as better than expected consumer confidence, coupled with some resurging beliefs of no tapering have been convincing investors to get out off the sidelines.
The main bit of economic data that was overall discouraging today was durable goods orders. According to the U.S. Census Bureau, new orders for manufactured durable goods during December decreased month-over-month by 4.3 percent to $229.3 billion, worse than the Street's consensus estimate calling for a 2.1 percent month-over-month rise. Concurrently, non-defense capital goods, excluding aircraft, declined by 1.3 percent, after increasing by 2.6 percent in the prior month. These orders are considered a proxy for future business investment in items such as computers, engines and communications gear, so its decline left a lot to be desired for overall economic growth in the short term. While there has been economic growth in the second half of 2013, the contributing factors have been the housing sector, consumer spending, and exports, yet companies are not ramping up spending on growth, which may be indicative of tepid growth expectations moving forward. Ironically, if signs of weak economic growth persist, the Fed will have more impetus to keep interests rates at near zero levels and, perhaps, refrain from the tapering action that many on the Street have been expecting. Of course, this resurging notion is one component lifting stocks today.

Also providing equity markets some lift was a much better than expected consumer confidence read. The Conference Board announced that its consumer confidence index increased to 80.7 in January from 77.5 in December, above the Street's expectation of 77.0. This result went against data from the University of Michigan posted 11 days ago, which showed its consumer sentiment January result landing at 80.4, lower than the Street's expectation of 83.0, and decreasing from the 82.5 reached in December. In the Conference Board survey, consumers' assessment of overall present-day conditions continued to improve as those claiming business conditions are "good" climbed to 21.5 percent from 20.2 percent, while those saying business conditions are "bad" decreased to 22.8 percent from 23.2 percent. Sentiment toward jobs prospects was also encouraging as those stating jobs are "hard to get" declined to 32.6 percent from 32.9 percent, and those claiming jobs are "plentiful" increased to 12.7 percent from 11.9 percent. Looking ahead six months, consumers expect the economy and their earnings to improve, but were somewhat mixed regarding the outlook for jobs. All in all, confidence appears to be back on track and rising expectations suggest the economy may pick up some momentum in the months ahead
Tomorrow investors will be focusing on the Federal Reserve, which actually begins its two-day meeting today. Most analysts expect the Fed continue to reduce its bond-buying program by $10 billion a month, although the poor durable goods data may change this.
Home Prices Mixed, Horton Impresses
By David Urani
The November Case-Shiller home price index showed a mixed result, as seasonally adjusted prices were up 0.9% month to month (beating the 0.8% consensus) while non-adjusted prices were down 0.1% (missing the +0.2% consensus). With regards to the non-adjusted number, it's one that's perhaps understandable given there had been some recent mortgage rate volatility (the index is a three-month moving average) and as it headed towards winter. Nevertheless, the year over year gain in the index ticked higher, to 13.7% from 13.6%.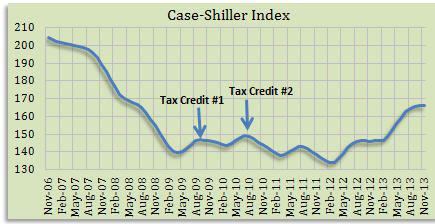 Homebuilder stocks are having a great day, with the Dow Jones US Home Construction Index up more than 5% as of this afternoon. That move is being spurred not so much by the Case-Shiller result, but by D.R. Horton (NYSE:DHI) which reported a strong quarterly result and is trading up more than 9%:
* Beat by $0.07 on the bottom line
* 33% increase in revenue to $1.64 billion versus the consensus estimate of $1.47 billion.
* Home closings were up 19%, along with a 10% average price increase per home to $275,600.
* Likewise gross margin was up to 22.3% from 18.8% a year ago, and from 21.9% in the previous quarter.
* New orders up 4% in units and up 15% in dollar value
* Backlog up 5% in units and 20% in dollar value
These are great figures across the board, although we do concede it's a deceleration from the 40% sales increase and 33% backlog value increase in the previous quarter. But the gist is that the market has been bracing for a difficult fourth quarter in housing and DHI suggests otherwise. Not only that, but D.R. Horton has been positioning itself well in terms of building up inventory to take advantage of home sales where smaller competitors perhaps don't have the resources, and in selling higher-value product to add to the volume increases.
Of course, this was a winter quarter which is typically the slowest and over the next few months home sales will ramp up into the spring selling season. But DHI was optimistic about that as well, noting some early activity so far in January which may be a sign the spring is set up to be very good this year. DHI hit its highest price since July and the Dow Jones US Home Construction Index is back to retesting its highest point since June.