By Carlos Guillen
After a very rough first half of the trading week, equity markets are making a very encouraging move to the upside with the Dow Jones Industrial Average fighting against support and actually winning back most of the losses suffered yesterday. Better than expected gross domestic product has been a moral builder, helping to overcome the belief that continuing Fed tapering may throw a wrench into the gears of the economy.
Clearly, the most surprising economic data presented today was that U.S. output improved better than expected in the fourth quarter. According to the Bureau of Economic Analysis, real gross domestic product (GDP) during the fourth quarter of 2013 increased quarter-over-quarter by 3.2 percent (annualized), better than the Street's consensus estimate calling for a 3.0 percent quarter-over-quarter rise. Additionally, this GDP result demonstrated the eleventh consecutive quarter of economic growth. The better than expected GDP result was mostly as a result of consumption (more precisely Personal Consumption Expenditures), which contributed a whopping 2.26 percentage points, the highest contribution since the fourth quarter of 2010. Also encouraging was that net exports contributed 1.33 percentage points, which was the highest contribution to GDP growth since the second quarter of 2009. On a bit of a negative note, Domestic investment only contributed 0.56 percentage points, which was a much smaller contribution than the 2.56 posted for the prior quarter. Moreover, Government consumption served to take away from overall growth, reducing GDP growth by 0.93 percentage points.
On the inflation side, prices for GDP increased by 1.3 percent, while economists' average forecast called for a 1.2 percent rise. The higher than expected rise in prices certainly serves to give further justification for the Fed's move to continue its tapering action yesterday.

On a bit of negative economic data, the number of people filing for unemployment benefits for the first time inched higher for a second consecutive week, not quite a reason to become concerned about a worsening jobs market but certainly a bit disappointing as many out there are expecting that the employment backdrop will improve. According to the Department of Labor, initial claims during the week ended January 25 totaled 348,000, increasing from the 329,000 revised figure reported for the prior week and landing above the Street's estimate of 325,000. The initial claims' four-week moving average was 333,000, increasing from the prior week's average of 332,250, but still below the 350,000 level which economists say is consistent with moderate labor market growth of about 150,000 net new jobs a month.

Also rather disappointing was that the Pending Home Sales report for December showed worse than expected results. According to the National Association of Realtors, its seasonally adjusted index of pending sales of existing homes fell to 92.4 in December, down 8.7 percent from a downwardly revised 101.2 in November and below economists' forecast of a slight drop of 0.2 percent; more on this below.
As it stands, the Dow is up over 130 points, although it is off the highs of the trading session. Tomorrow we will get more hints of the state of the U.S. economy, with Chicago PMI and Michigan Sentiment being among the most significant catalysts of volatility.
Pending Home Sales
By David Urani
The National Association of Realtors (NAR) gave out its December Pending Home Sales Index, a measure of new home sales that were initiated but not yet completed which makes it a forward looking indicator. Similar to the December new home sales report from the Census Bureau, it was a big disappointment. Pending sales were down 8.7% month to month to an index reading of 92.4 which puts it at the lowest point since October 2011. It's certainly a rough result, and it showed broad weakness in all four geographies. It also marks the fourth decrease in a row.
There's no reason to be encouraged by the reading although I will add, as I noted with the new home sales report, that this is a volatile winter reading in what has been a very cold winter. Traffic was impacted by the cold, and when also adding seasonal adjustments the data can become somewhat skewed. The NAR also went on to suggest that, similar to many other months in 2013, sparse inventory continues to mean many buyers are not finding the homes they're looking for.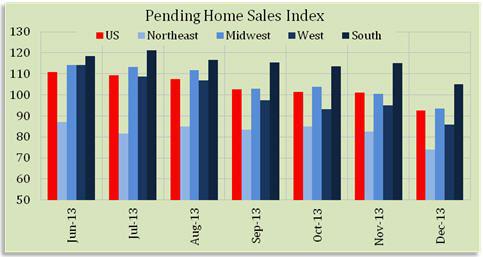 The pending home sales result was a negative influence on related stocks this morning, but they've generally held in the green as a few earnings results from the likes of D.R. Horton (NYSE:DHI), Ryland (NYSE:RYL) and Pulte (NYSE:PHM) this week have been strong while management teams have been optimistic about this spring.