By Carlos Guillen
After a week of very encouraging stock moves, with the Dow Jones Industrial Average reaching a new high for 2014 and gaining over 218 points, today equity markets have reversed as news flow over the weekend of instability in the Ukraine has taken investors by surprise, putting the Dow down over 200 points, almost wiping all the gains from the prior week.
Clearly, the situation developing in the Ukraine has come out of left field. Most on the Street would have predicted some form of political turmoil out of the Middle East, but not from Russia. The news flow started late Friday that Russia had moved troops into Ukraine's Crimea peninsula, and this has been escalating with the U.S. and European allies threatening to punish Russia's economy. Yesterday, U.S. Secretary of State John Kerry raised the possibility of sanctions against Russia, including asset freezes on Russian businesses and bans on visas. While there were rumors of a Russian imposed deadline by which the Ukraine must surrender to the invading forces, Russian officials have denied any such time limit. Still, the tension in that region persists, taking down equity markets around the world.
Economic news has gone rather unnoticed today with China showing signs of weakness, while U.S. PMI made a better than expected showing. As we saw today, China's official PMI report for February slipped to 50.2 from 50.5, but the final HSBC PMI report edged up to 48.5 from 48.3. However, here at home PMI in February clocked in at 53.2 percent, increasing from the 51.3 percent reported for January and landing above the 51.6 percent consensus estimate. Concurrently, New Orders totaled 54.5 percent, up from the 51.2 percent posted for the prior month.

Also earlier in the session, according to the Bureau of Economic Analysis, personal income during January increased month-over-month by 0.3 percent, in line with the Street's consensus estimate. Concurrently, personal consumption expenditures (PCE) increased by 0.4 percent, while economists' average forecast called for a 0.1 percent rise.

At this time, the tension stemming from the Ukraine has dwarfed all the economic data presented today, but at least comments from Russian leaders denying any form of ultimatums has served to keep stock steady; however, things can change at any moment.
Chinese Production Pause
By David Urani
HSBC's PMI index of Chinese manufacturing activity showed another worrying result for February indicating some slowness in the Chinese economy. Keep in mind that index readings above 50.0 indicate growth while anything under that level indicates contraction. As of December, the index was still in growth mode at 50.5, but in January it slipped to 49.5 and the February reading has now come in at 48.5. This is the lowest level in seven months.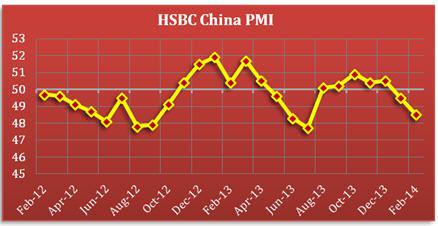 The official Chinese government's own reading on manufacturing PMI also came out and theirs showed a decline from 50.5 to 50.2. Of course Chinese government data is notoriously suspect, and you wouldn't want to completely rule out some number fudging to keep it in positive territory. However, like
the HSBC reading, it's been in an extended decline and represents the lowest reading in eight months.
So clearly the Chinese economy has been wavering, but there is one caveat to this latest data. The Chinese New Year took place in early February, and that's a time when many businesses close down for a holiday for a couple of weeks. That means the data is always going to be a little sketchy at this time of year as there's a margin of error and the picture will not be entirely clear. In fact, it may have also affected January economic data given that businesses tend to slow down inventory building in anticipation of the holiday.
Given that, I would say you can't necessarily take the data as being entirely accurate. Things may change in the March reading. However without question the Chinese economy had been wavering in prior months, meaning there's good reason to be worried about it.