By Carlos Guillen
After an intense focus on the jobs backdrop, investors desperately took a look at the government jobs numbers presented today and got much more clarity on the matter. The good news is that many more than expected jobs were added to the economy; the bad news is that the unemployment rate suddenly increased ... What?
According to the latest data from the Department of Labor, the unemployment rate in February clocked in at 6.7 percent, landing above the Street's consensus of 6.6 percent and increasing from the 6.6 percent posted for the prior month. The household survey showed that those employed climbed by 42,000, but those unemployed increased much more by 223,000. A bit more encouraging, however, was that those not in the labor force declined by 94,000, all while the labor force absorbed an additional 171,000 individuals that resulted from population growth. The net results, however, were not encouraging since the rate of growth of those unemployed was much greater than those employed. While the unemployment rate has been consistently declining for the last seven months, this sudden tick higher was somewhat of a red flag.
We should note that in this month the number of those employed did not benefit from an increment in part-timers nor from those on the fence; in fact, the number of individuals working part-time for economic reasons actually declined by 71,000, and those "marginally attached to the labor force" decrease by 289,000, so if we include "part time for economic reasons" of 7.2 million and the "marginally attached to the labor force" of 2.3 million to the unemployed number, we calculate an unemployment rate of 12.6 percent, which actually declined from the 12.7 percent posted for the prior month.

Clearly the most encouraging aspect of the jobs data was that non-farm payroll employment in February (derived from the establishment survey) increased by more than expected, and January's level was revised higher. The report showed that the increase in non-farm payrolls was 175,000 while the Street's consensus called for a gain of 163,000. However, the non-farm private payroll gains were 162,000, which landed below economists' forecast of 170,000. This result was higher than that presented by ADP this past Wednesday, which also landed worse than Street estimates. According to ADP, non-farm private sector jobs increased during February by 139,000, worse than economists' average forecast calling for a 150,000 increase.

While investors do want the economy and employment to improve in the long term, the sudden increase in the unemployment rate is encouraging for equity buyers as it serves to reverse the belief that the Fed will continue to taper, which in turn serves to remove pressure on stocks.
Market Boost Bolsters Household Worth
By David Urani
So we got an employment report that was better than anticipated, with 175k jobs being added in what really could have been a worse month with the weather and all. And now the ball goes into Janet Yellen's court as she and the Fed decide whether to stay on course with their QE tapering schedule.
If you've ever wondered why the Fed has been reluctant to do so until just late last year, consider the affect the rising market has had on household net worth. The Fed reported yesterday that total US household net worth rose by $3 trillion in Q4 to a new record high $80.7 trillion. Of the $3.0 trillion in additional asset value gains, $2.2 trillion came from equities, pension and mutual funds. And when adding together the total asset values of household equities, pensions and mutual funds and dividing it by total household assets, one sees that the percentage those items account for has been rising.
In fact, these financial market gains now account for 43% of total household assets, and that percentage was only higher in late 1999 and early 2000 during the tech bubble. Of course, later in that decade stock market assets came down as a percentage of total assets not only because those tech stocks crashed, but also because of the bubbling in real estate values. But in 2000 the value of real estate as a proportion of household assets was just slightly higher than it is now (23.7% of total assets in 1Q 2000 versus 23.3% now).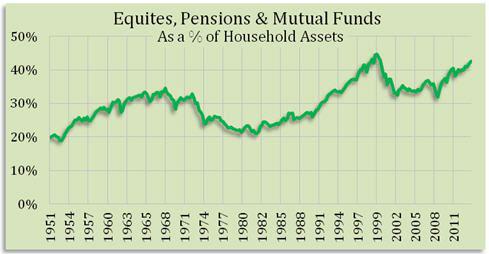 That's not to say that stocks are currently in a bubble but it goes to show that the markets have become an increasingly influential in US families' financial strength. And that was part of the Fed's goal, as Ben Bernanke made it clearly known that he wished to increase asset values. But one also should consider that it's the rich folks that see the most benefit from stock gains. In the meantime we need to make sure to keep the exuberance in the stock market in check, as its control over household finances is rising and it can bring US household net worth down as quickly as it lifted it. And that's something that Mrs. Yellen is well aware of. Better to taper now than to let it get out of hand.