By Carlos Guillen
Despite all the commotion stemming from the Ukraine, the Dow Jones Industrial Average finished the trading week up 131 points from the prior week. However, this week is starting off on a rather negative note as everyone is refocusing on China's slowing growth, which served to sink the Shanghai Stock Exchange Composite Index by 2.86 percent.
More than just Chinese equity markets have been affected today; in fact, stocks around the world have experienced pressure after surprisingly weak Chinese trade data added to worries about a slowdown in the world's second-largest economy. According to the customs administration in Beijing, China's exports unexpectedly fell 18.1 percent last month versus economists' forecast of a 6.8 percent climb. The data underscored recent concerns about the outlook for China's economy. Distortions in the data from the Lunar New Year holiday and fake invoicing that inflated numbers last year are being used as explanations for the drastic change in exports. While Chinese officials still maintain their 7.5 gross domestic product growth target for this year, there are still many challenges, in particular debt levels that look unsustainably high. Just last week, the first default in China's corporate-bond market raised many flags of the possibility of other going down the same path. With China's slowing economy testing a 15-year low in year-over-year growth, concerns about companies' abilities to repay are rising. Declining exports may also be indicative that even external demand may not be that strong.
In all, investors' focus on China has served to put pressure on U.S. stocks, with the Dow currently down over 80 points, but on a positive note the index is off 30 points from the low of the session, with signs of making up losses.
Chinese Data Continues to Worry
By David Urani
Over in Asia, the Shanghai market was crushed by 2.9% as there's been building evidence of economic conditions slowing down in that nation. The latest piece of economic news to hit China was February trade numbers. Total trade was down 5% year over year to $251 billion, and in particular exports were down 18%, offset by a 10% increase in imports. Certainly the headline numbers are alarming but taking a look at it from a birds-eye view (below) one sees that February is always a highly volatile month because of the New year holiday which lasts for two weeks. Trade always falls significantly in February. The fact that exports declined so much compared to last February and that the country ran a total trade deficit of $23 billion is a worry though. Nevertheless, we note that this has happened in the past, notably in February 2012 before rebounding back to more normal levels. Therefore, we see this export data as something to keep an eye on but one to add a caveat to as well, given the unusual February New year effect.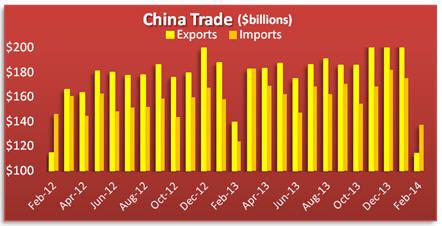 Nevertheless the very fact that there's been so much negative news out of China suggests that below the surface there is indeed some weakening occurring, including a seven-month low in HSBC's manufacturing PMI index. Concurrently, copper and iron ore inventories are reportedly rising. China is a major consumer of copper, and consequently copper futures prices are down more than 5% in the past two sessions at just above $3.00 per pound; that brings the price down near late 2010 levels.